Overview
In the Advocacy Platform, Analytics is where you can view how your ExpertVoice advocacy marketing program performs over time. Within the Analytics feature, you have access to a rich database of reports that you can customize for your brand's needs. Analytics aims to give you greater visibility into how your advocacy marketing program performs over time with specific audiences and can inform how you improve your program moving forward.
Tip: You can use the campaign-specific reports in Analytics to monitor the performance of multiple campaigns your brand has published on ExpertVoice. For more detailed information about how specific campaigns perform, visit the Campaign Manager dashboard for additional data.
As experts start to engage with your campaigns, your analytics will populate and refresh daily in the Advocacy Platform. Because experts have 22x more conversations about the brands and products they love than the average consumer, it's essential to regularly monitor your program analytics and adjust your campaign strategy if needed to help more consumers make better purchasing decisions. 
How to use Analytics
Visit the Analytics in the Advocacy Platform
Click the + button next to Dashboards to create a new custom dashboard and type in a name based on the reports you will add to it (e.g., Sales Reports)

Note: this dashboard is visible to all users at your company

Click Add Reports to Dashboard to expand the database of available reports.

Use the search bar to discover relevant reports based on a specific keyword or phrase, or click the magnifying glass icon to populate suggested reports.

Click the report and drag and drop it to your dashboard

To open the report, click the report title or three dots on the right side of the report to expand the drop-down menu of options and click Explore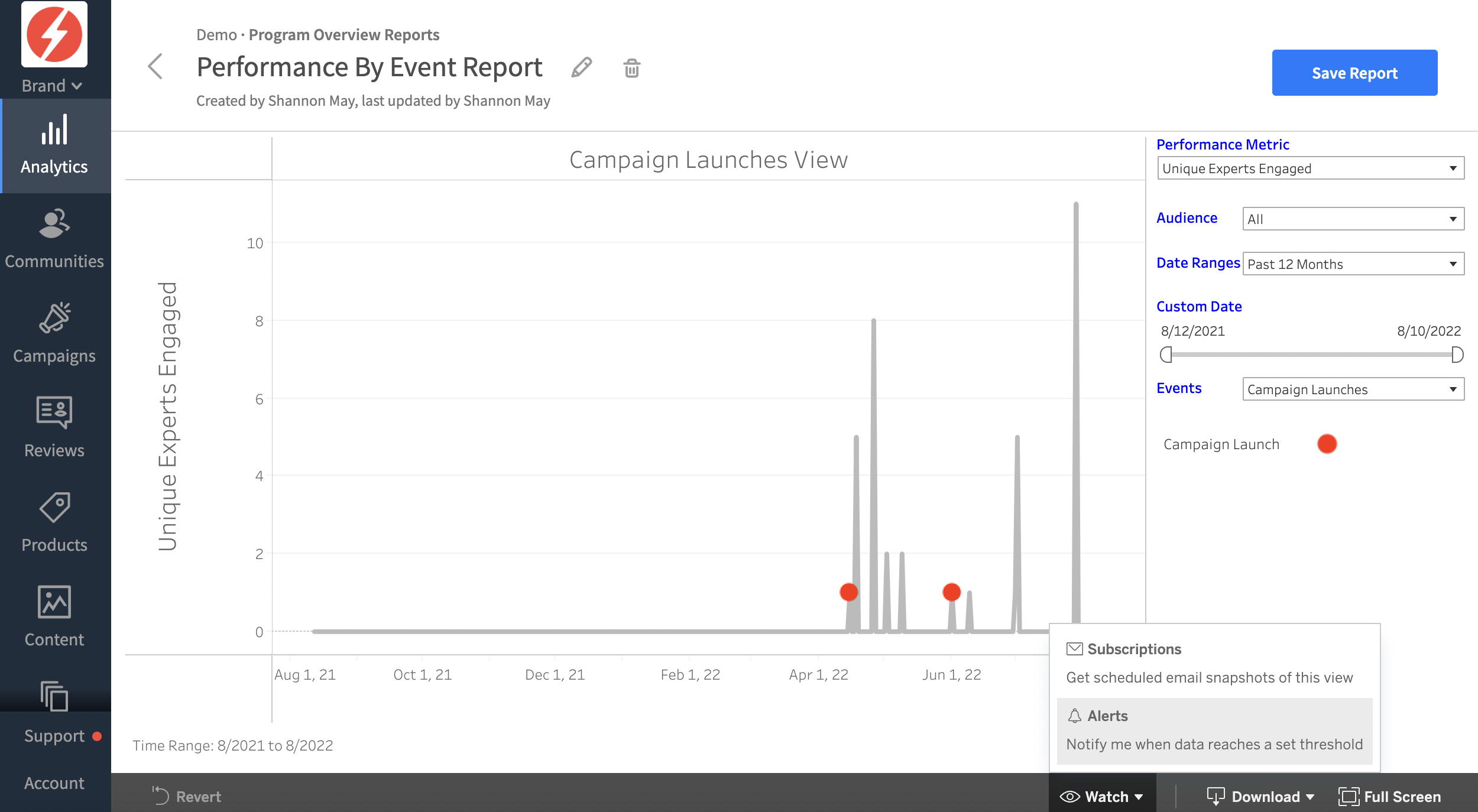 How to monitor reports
At the bottom of the page:
Click Watch to set up Subscriptions: Get scheduled email snapshots of this view as an image or PDF on a specific date or when the reports refresh. You can email reports to one or more individuals.
Click Watch to set up Alerts: Get notified when the data on a specific axis reaches a specific numerical threshold. 
Click Download to download the data: Download the report as an image (PNG file), the data (CSV), a PDF (Portrait or Landscape), or Tableau Workbook.
Click Full Screen to see the report as a full-screen takeover on your web browser.
How frequently are reports updated?
Campaign reports are currently updated twice a day.
What reports are available 
Note: As of 9-2023:
Overall Performance:
Campaign Engagements Over Time: This bar chart shows how many total experts engage with a brand through campaigns and communities over time on ExpertVoice.
High-Level Conversion: The breakdown of platform activity by unique experts engaged;  includes visits, lessons completed, orders placed and recommendations shared.
Performance by Event: Expert activity overlaid with promotional media and other events
New vs Returning Experts: Ratio of experts engaging for the first time vs. those returning to engage again
Education Behavior:
Education by Campaign: Lesson engagement per campaign
Education Over Time: Lesson engagement per month with audience access breakdown
Education by Region: Lesson engagement by the experts' state or territory
Education By Team: Lesson engagement by the experts' team access
Education During Promotional Media: Engagement with your brand's monthly lessons in line with promotional media events
Historic Engagement Trends: Lesson engagement each year
Lesson Engagement: Breakdown of expert activity by lessons and Edu-Games
Seeding Behavior:
Historic Sales Trends: Hosted store sales placed per year on ExpertVoice
Sales by Campaign: Hosted store sales placed per campaign
Sales by Product: Top-selling products by dollar volume
Sales By Region: Hosted store sales based on the experts' shipping address
Sales By Team: Sales placed broken down by the experts' team access
Sales Over Time: Hosted store sales per month
Sales During Promotional Media: Hosted store sales placed per month in line with promotional media events
Tip: For brands with a redirect store: For all sales-related reports that have multiple display metric options, add "Redirect Clicks" as an option to populate your data.
Recommendations:
Recommendations Over Time: Total number of recommendations posted monthly with a Net Promoter Score (NPS) breakdown
Historic Recommendations: Total number of recommendations posted each year
Recommendations Display: Total number of times consumers have viewed the ExpertVoice Recommendations Display on your brand's website
Program Maintenance:
Capped Edu-Game Billing: Billed Edu-Games relative to those attempted per expert per lesson over a given invoice period
Out of Stock: Products and SKUs that have inventory issues in the hosted store
Search Term Frequency: Search terms entered by experts over the past year that resulted in clicks on your brand or products
Inventory Levels: Estimated inventory levels by product name and SKU
Store Redirect Codes: Breakdown of promo code utilization by a redirect store
Support
If you need support reviewing your analytics, please contact your Customer Success Manager.