An expert is someone with knowledge, experience, and passion who seeks advice on what to buy and where to buy it. Not all experts are created equal; they can have different levels of strength and reach.
A target audience is a group of experts identified as likely advocates of a business. They are defined based on their common characteristics, such as demographics and behaviors.
What is an audience on ExpertVoice
The ExpertVoice audience is the collective group of experts who are regularly vetted and affiliated with one or more professional organizations (also known as "teams") or categories and reside in one or more geographic locations.
We segment our audience of nearly 1,000,000 verified experts into three separate groups. Experts could fall into one, some, or all of these groups based on their affiliations.
63% – Industry Professionals: This verified expert is knowledgeable about a brand and a category.

An example includes a

n instructor of a local mountain bike organization who knows a lot about bikes and might use various bike gear from many different brands. See another example here.

33% – Retail Sales Associates:

This verified expert is knowledgeable about a brand and a category and works in a retail location.

An e

xample includes a

bike store manager who engages with and purchases from specific brands on ExpertVoice and recommends them in-store. See another example here.
4% – Enthusiasts: This verified expert is enthusiastic about a specific category and raves about it to others but may have limited strength and reach. An e

xample includes a

member of a local mountain bike organization who pays for benefits, including group rides, ExpertVoice access, and educational MTB resources. See another example here.
Note: Experts are real people with real jobs and real interests. Often their affiliations and interests might overlap, but not always. For example, an expert might be an Army veteran who works as a store manager for a nationwide hunt and outdoor retailer and enters barbecue competitions on the weekend. The ExpertVoice platform allows you to target broadly or narrowly based on these affiliations and interests.
Audience targeting helps you show your campaigns to the right experts you care about. Targeting essentially means that you're giving us a relatively strict set of parameters to work within while finding the best target audience to show your campaign to. Your ExpertVoice target audience can be a combination of saved audiences you have previously targeted on ExpertVoice or a new audience you define with your Account Executive.
You can take two general approaches to creating a target audience: specific and broad.

Neither type of targeting is inherently superior to the other. The approach you choose depends on what you're trying to accomplish and your available resources.

For example, you can target specific expert teams, such as the International Mountain Biking Association, or target broader industry categories, such as the Bike and Outdoor Categories.

If you'd like, you can further refine your audience based on the geographic location they shared in their expert profile.
Here are some questions to consider when determining what target audience you'd like to create:
What are your business goals?

What types of experts do you want to reach first?

Do you want to reach a broad expert audience or a smaller, more personal audience?

How will you build a long-term relationship with your audience?
The Audience Library in Libraries is where you can manage the groups of experts who will be given access to your campaigns on ExpertVoice. It is a collection of the target audiences that you or ExpertVoice Studios create for your campaigns.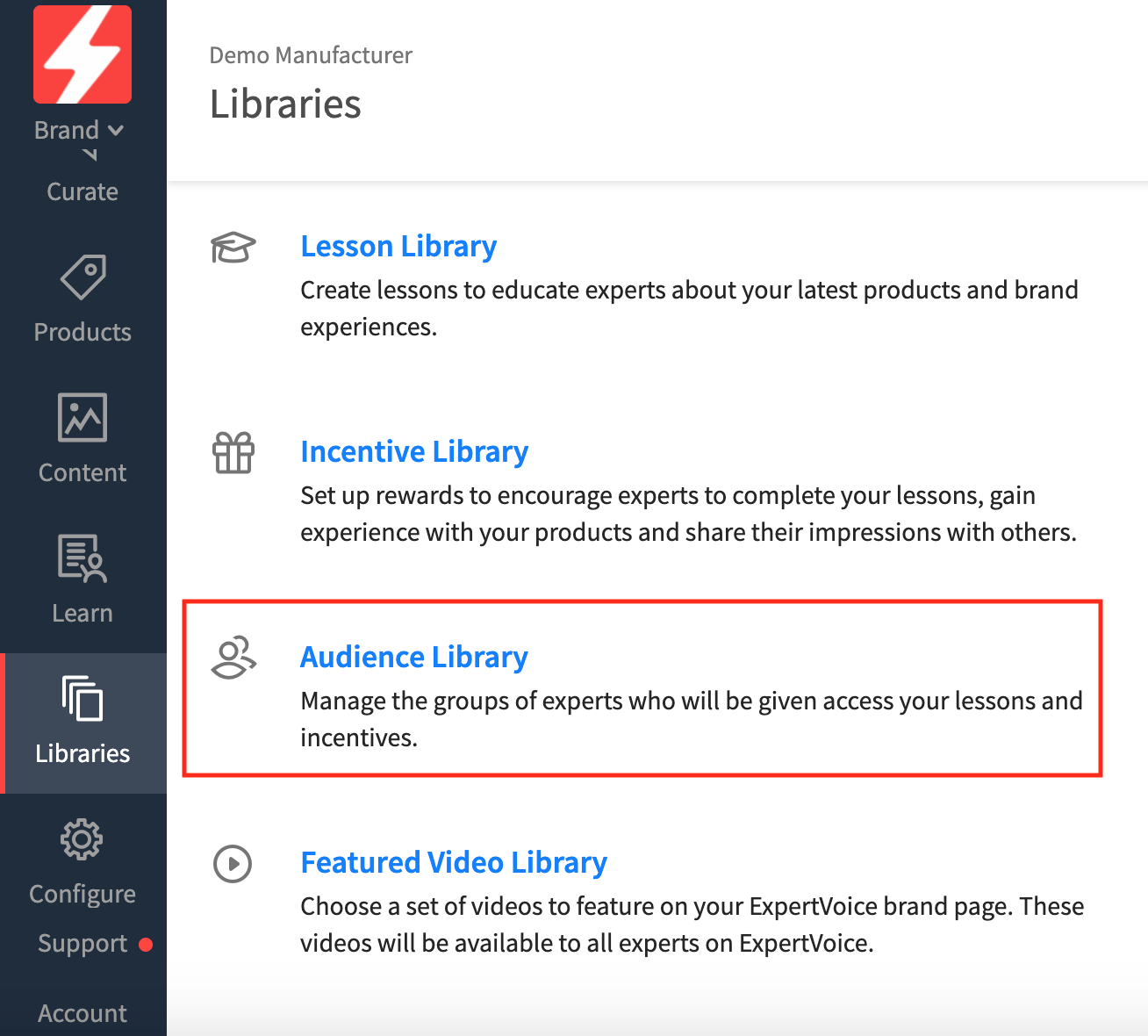 Work with ExpertVoice Studios to create audiences
ExpertVoice Studios can create audiences on your behalf, or you can create these on your own using the Audience Library in the Advocacy Platform.
If you would like help to create a custom audience that is not outlined in your Solution Template (for example, if you would like to target a dealer list or a custom unique audience beyond what the audience filters in the Advocacy Platform provide), please contact your Customer Success partner at least three weeks in advance of when you would like your campaign to go live.
Any audience that ExpertVoice Studios creates for you will appear in the Audience Library after you approve the audience.
Note:
Any audience created by ExpertVoice Studios will have a
red lightning bolt label
on the top left-hand corner of the campaign.

How frequently you should create an audience
If you're creating a new campaign, you can create a new audience using category targeting or a saved one. You can target the same audience with different campaigns or target different audiences with different campaigns.
However, creating campaigns for the audiences you define with your Account Executive in the Solution Template is recommended.
How many experts should you target
We recommend working with your Account Executive to develop a strategy for how many experts to target.
Throughout the Advocacy Platform, you will see the estimated audience size for audiences. The ExpertVoice platform constantly onboards new experts, verifying their credentials and expiring old affiliations. The estimated audience size is rounded and, depending on the specific audience, may vary over time as experts are verified.
Note: If adding more than one audience to a campaign, the total number of unique experts targeted will be displayed in the Targeting step.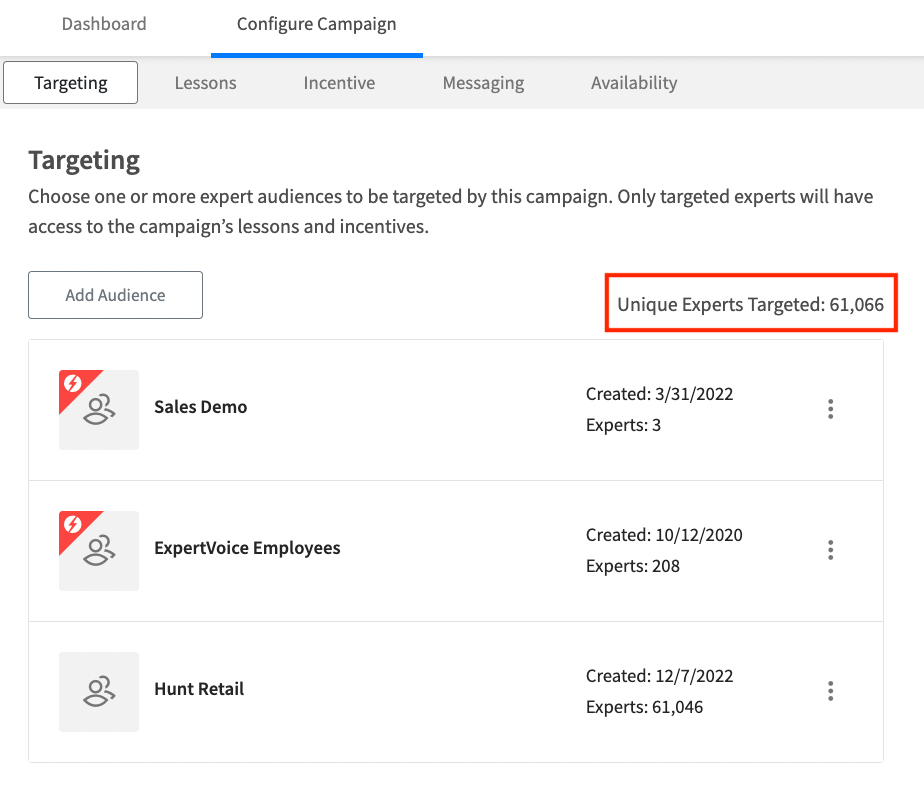 Manage audiences in a campaign
Audiences can be added, replaced, or removed in select campaigns. Learn more about how to manage audiences in a campaign.
Manage audiences in the Audience Library
The Audience Library in Libraries is a collection of audiences you or ExpertVoice create for your campaigns.
In the Audience Library, you can:
Create new audiences

Manage and edit saved audiences

Duplicate audiences

Archive lessons
Note: The ability to create and edit audiences is based on your subscription level. Not all features (such as duplicating) are available for ExpertVoice Studios-created audiences.
Create a new audience
Visit the Audience Library in the Library in the Advocacy Platform
Click Create New Audience

in the top right-hand corner

Insert an Audience Name

to describe the audience you're about to create

100 characters maximum.

The Audience Name is only visible to you.

Consider a simple name to describe your audience. (

Example: USA-based Experts)

Under Targeting, click Select Categories to

select one or more categories you want to target.

All categories are included by default, but you can select one or more categories to create a custom audience.

An expert must be affiliated with at least one category you select. Please talk to your CSM to target experts who match all selected categories.

Determine which types of experts you would like to target. You can select all experts on ExpertVoice, retail experts only, or experts in professional organizations only.
Under Location,

decide if you would like to refine your audience based on their specific

Countries

and/or

States & Territories

that they have shared in their expert profile.

All available locations are included by default

Click Save & Close

to save your audience

You have to save the audience before using it in a campaign. When you save an audience, everything about the audience is preserved for your campaign(s)