Overview
Challenge campaigns give your community a fun way to interact with each other and gain product knowledge along the way with a gamified experience. Allow your members to test their knowledge, and compete asynchronously to deepen their engagement with your brand.
Please Note: The Challenge Campaign feature is only available to brand users using the Community Manager. To gain access, reach out to your Account Executive or contact us for more information.
Use the video below to see an overview of the Challenge Campaign and a step-by-step tutorial to help you set one up.
What makes a successful Challenge Campaign
Make it creative and fun. This is a campaign that is used to help foster engagement with your community members and provide them additional opportunities to participate in your community. You can test your community members on a variety of topics that will help them learn more and have fun doing it:
Your brand history and ethos

Product details

Their industry knowledge
Follow the best practices for ideas and getting started here.
How to Create a Challenge Campaign in the Campaign Manager
Visit the Campaign Manager in the Advocacy Platform

Click

Create New Campaign

in the top right-hand corner to expand the

drop-down menu of available campaign types
Select the challenge campaign type and then give it a unique campaign name

This name is not expert-facing, but we recommend making the name easy for you and others on your team to be able to search for and find it later (e.g., Elite Ambassadors Challenge Campaign 2022)

Choose the appropriate community as your target audience

Create your Campaign Card by adding your campaign image and headline

1800 X 400 pixels minimum

Update the Campaign Overview & Instructions

Add a campaign description

Define instructions

Configure the Challenge, add the questions and answer options you want to be included in the campaign

Determine the Questions Per Play-Through, how many questions will be presented to a player in a session
Set the Question Duration, how long a member has to read and answer each question\

Start your campaign or schedule it to start and end on specific dates
Pro Tip: The pool of questions should be at least double the size of the number of questions in one game. This ensures that each game will have different questions and answers. (EX: Create a pool of at least 10 questions for a game that will pose 5 questions.)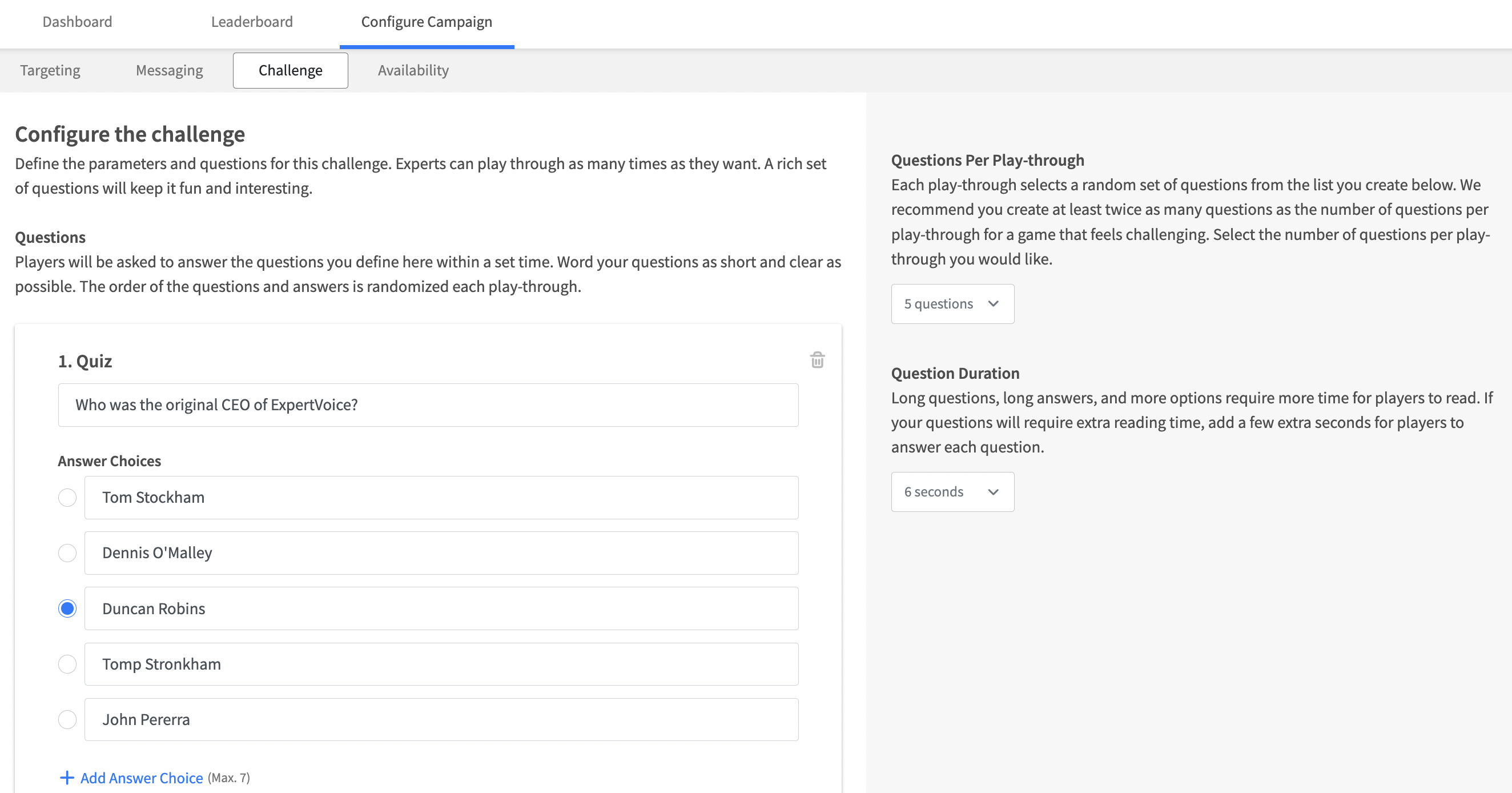 Tip: Complete each step in order and save each step. Each step is a dedicated save point and must be completed in order; you may not skip ahead. You may come back and edit steps as needed.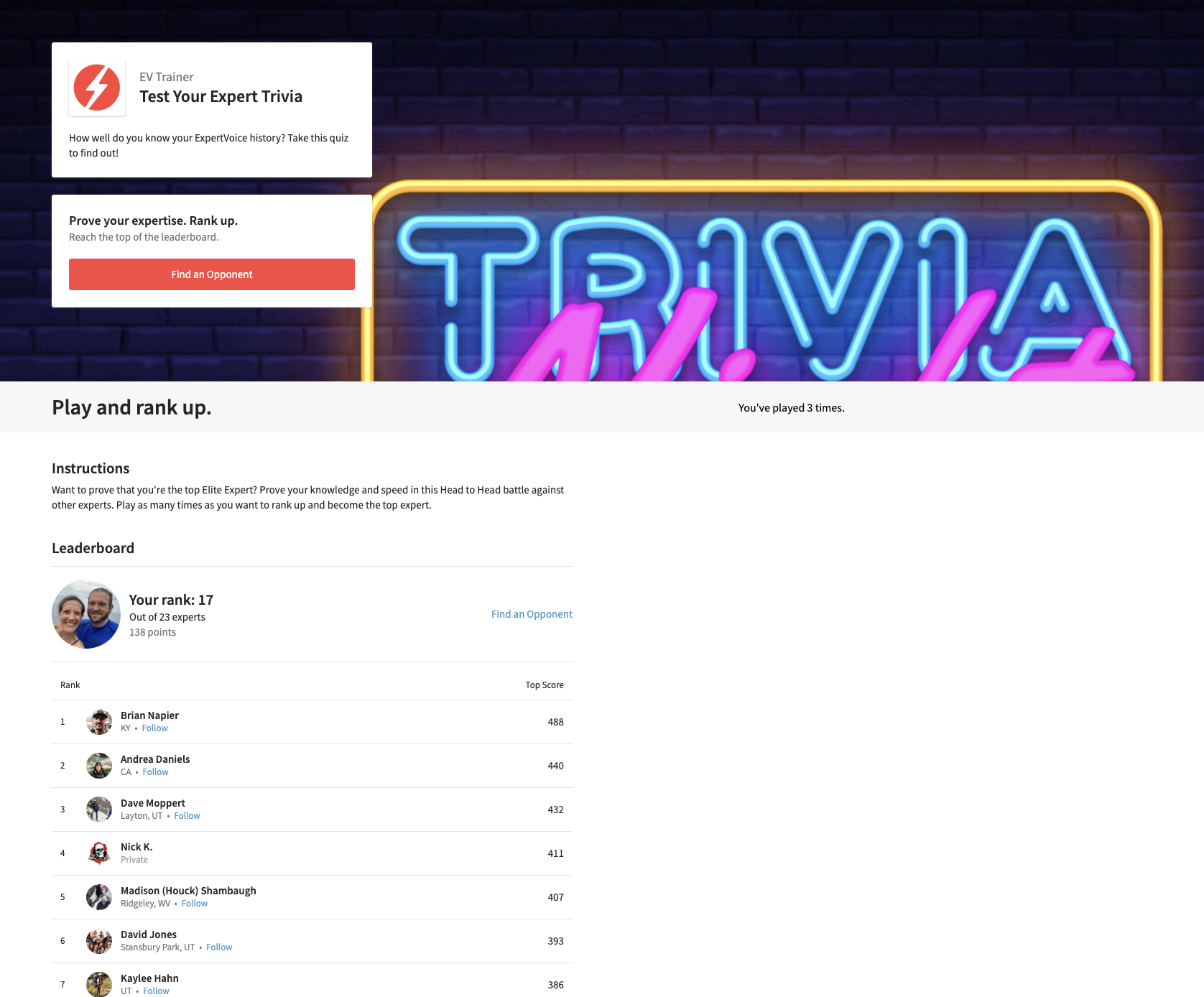 Manage your Challenge Campaign
Configure
This tab will take you back to the configuration of your challenge campaign if you need to edit or stop your challenge campaign.
Remember it's OK to make small edits to a live challenge campaign, but for changing or adding questions, a new challenge campaign should be started.
Start, stop or restart a campaign
Choose a start and/or end date to schedule the campaign, or manually start and end the campaign.
Note: Ending a challenge campaign will prevent target experts from engaging with it further and stop it from showing on your brand community page.
Archive a campaign
It's important to regularly audit your list of Current Campaigns to ensure the campaigns still meet your broader company goals and advocacy marketing program objectives. If a campaign is not relevant to you anymore, you can archive it.
Visit the Campaign Manager in the Advocacy Platform

Search and filter to find the challenge campaign you wish to archive

Click the three dots on the right side of the campaign to expand the options menu and click Archive
Archiving a campaign removes it from your view in the Current Campaigns tab and puts it in the Archived Campaigns tab, in case you need it again. Any campaign that is currently running cannot be archived. Stop the campaign first to archive it.
Unarchive a campaign
If a previously archived campaign is relevant to you again, you can unarchive it. The unarchive action means removing a previously archived lesson from the digital archive and making it current again.
Visit the Campaign Manager in the Advocacy Platform

Click the Archived Campaigns tab where the campaign you would like to unarchive is saved
Click the three dots on the right side of the campaign to expand the options menu and click Unarchive
Monitor campaign performance
Review your campaign dashboard to see an overview of the campaign activity and results.
For a more detailed view of your top performers, use the leaderboard to view and filter by name, rank, score, play count, first and last play.