Overview
Follow the steps below to create a community on ExpertVoice. Once you have completed these steps, you will be able to build your application.
Please Note: The Community feature is available to brand users who have signed up for Community Manager. To gain access, reach out to your Account Executive or contact us for more information.
Create your community
Visit Communities in the Advocacy Platform
Click Create Community in the upper right corner

Add your community name and update the URL if necessary (This is the only time you can change the URL. Once saved, it cannot change.)
Tip: The name of your community is the first thing experts see when seeking it out so choose something memorable. It should evoke your brand personality and if possible, incorporate your brand name. Be sure and give each of your communities a unique name rather than simply naming them something like Community 1, Community 2, etc.
Use the assistant to help you set up your community
Note: At any time, you can revisit these steps and update or make changes
Click the name of the community you created

First, personalize your community

Design and overview

Upload your banner image and crop as needed
Community description (shortest possible description of your community, including what's in it for the member.)
Community overview

(comprehensive details about your community)

What we ask

(w

hat will you expect your community members to do)

Who should apply

(detailed description of the types of members you are seeking)

Member benefits

(describe the rewards participants should expect if they are accepted into the community)

Save & Continue

Define community guidelines

Brand guidelines are optional, but recommended

Save & Continue

Assign a community manager

Select a manager from one of your brand admins (if the person doesn't show up as an option, let your CS partner or the ExpertVoice community manager know and they can set them up.

Set an email address where members can message your community manager (ideally an alias email address)

Save & Continue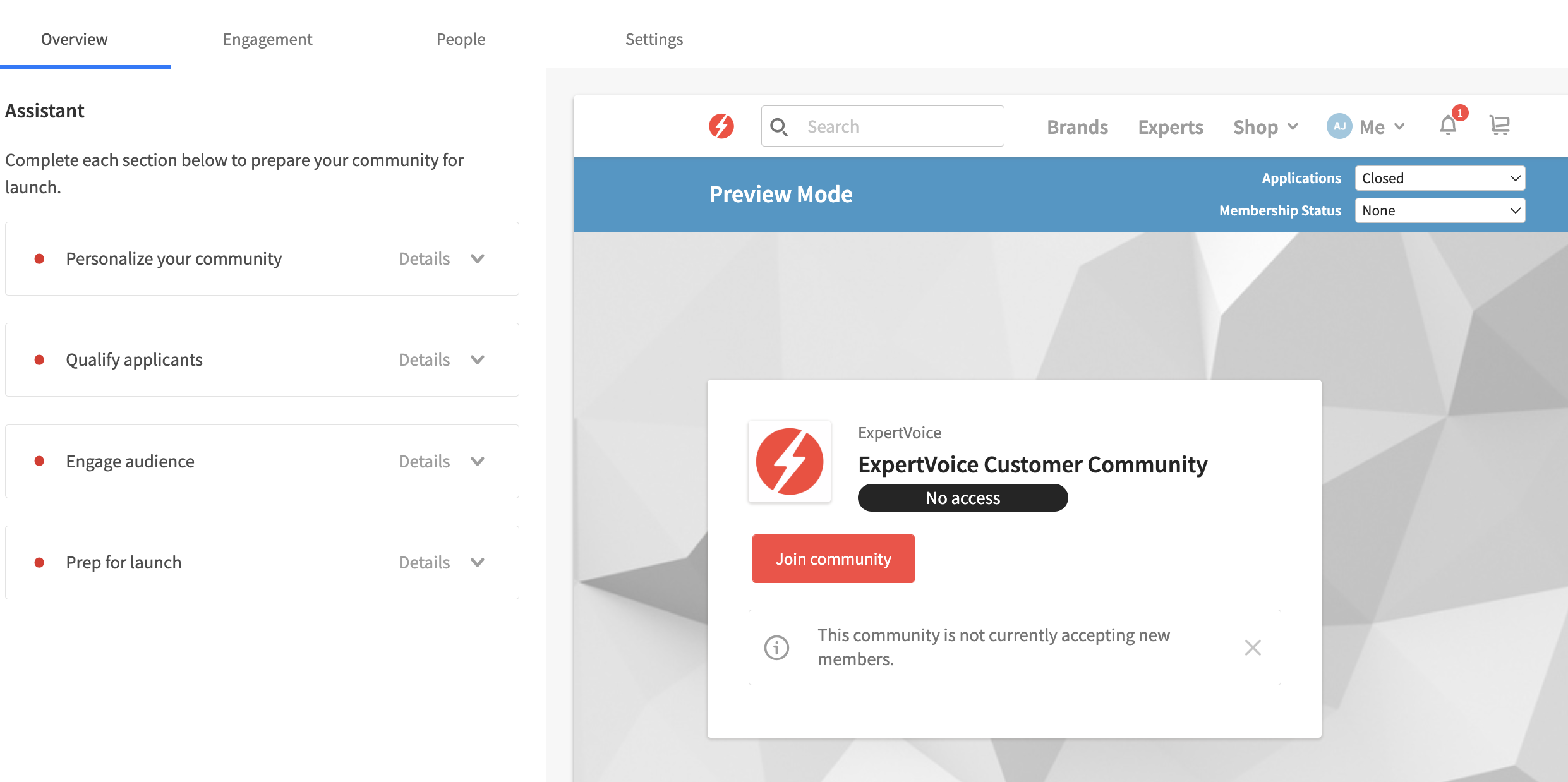 Tip: Personalizing your community helps potential applicants decide if they would be a good fit for it and whether they should apply. Make it inviting, informative and specific as to what you will be asking of your members to do, and how you will reward them. Remember, you want to appeal to existing fans of your brand and give them an opportunity to wow you with their enthusiasm.
Preview
Use the preview on the right while working through the builder to preview on different devices.
Continue setting up your community by setting up your application.
Questions? Find answers to FAQs here.