Overview
Expert reviews, also called expert recommendations, are written or recorded by credentialed experts in a specific category and backed by their resumes. Experts can post reviews for products they have purchased on and off of ExpertVoice or have experience with. Brands and other experts can engage with the product reviews they see on the platform by giving the review a thumbs up or down or by leaving a personalized comment. A comment is a written remark expressing an ExpertVoice member's opinion or reaction toward a brand's product and can be published on any product review. After someone engages with an expert's product review, the original poster is notified and can review the engagement if they'd like.
Note: While all brands have access to the Review Manager in the Advocacy Platform, only brands with a hosted store or product catalog can collect, monitor, and engage with reviews published on ExpertVoice.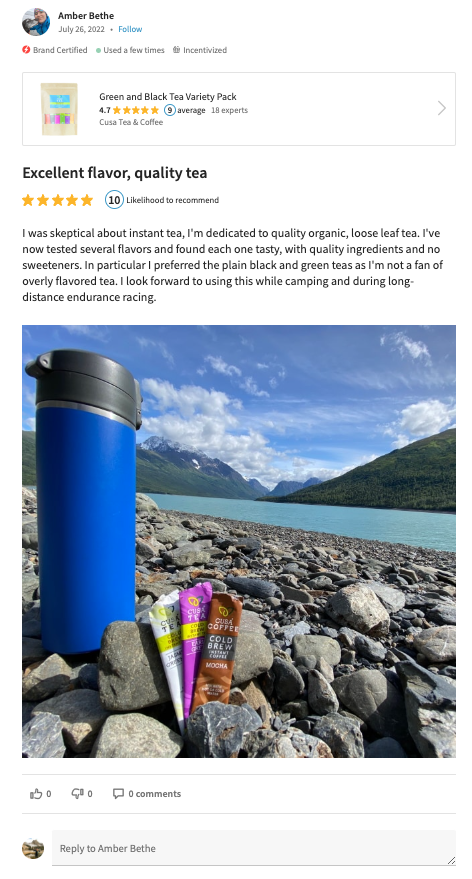 Why it's important to monitor and engage with expert reviews
When an expert publishes a review on ExpertVoice, they share personal product insights for the brand and other shoppers to read. With this in mind, it's best practice for brands to monitor and engage with all expert reviews – good or bad – to ensure all experts feel like their product reviews are valued. Reward the reviewer by helping them feel valued for the insights and feedback they share in their product review.
Who should monitor your brand's product reviews
Designate someone within your team to handle responses — much like you would with your social media account. If you are not the individual in charge of engaging with product reviews, ask someone on your social and e-commerce team to manage this responsibility, your rules of engagement, and how frequently you will monitor reviews.
We recommend that the content responder develop a response strategy to ensure all product reviews are addressed promptly and in a way that strengthens your brand's relationship with the expert, no matter the review's sentiment.
How to monitor product reviews
Ideally, your brand will respond to published reviews and comments within 24 hours, but we understand that is not always feasible. We recommend your designated content responder set aside time at least once per week to review recent reviews and other engagements, such as member comments on the reviews.
If you can collect reviews on ExpertVoice, the Review Manager is where you can efficiently view and engage with all your brand has received since you started to collect reviews on the platform.
As new reviews and comments are published, a blue dot will highlight these for you to monitor and engage with in the Review Manager. New reviews and comments you have not seen since your last visit to the Advocacy Platform will appear at the top of the page and include a high-level summary of what's new for you to review. The reviews displayed are sorted by the most recently published. Older reviews and comments you have already seen or engaged with will appear at the bottom of the page.
Tip: The blue dot only appears if there are new reviews and comments that you, a unique user, have not seen yet in the Advocacy Platform. If another unique user at your brand monitors and engages with your expert reviews, you will see this user's thumbs up or down and comment(s) if they have already engaged with the more recent reviews.
How to filter product reviews to see comments
In the All tab of the Review Manager, click Comments in the left-hand menu to expand the following filters.
Experts have commented:

Select this filter to surface all product reviews with one or more comments. ExpertVoice members may ask the original poster for more information to better understand if the product is right for them. The original poster and other members can reply with more details in the comment section.

My brand has commented:

Select this filter to surface all product reviews that you or another user at your brand have already responded to.

My brand has not commented:

Select this filter to see which product reviews your brand still needs to monitor and engage with.
Tip: Sometimes, ExpertVoice members may respond to your brand's comment, so it's essential to regularly monitor new and old product reviews using these filters.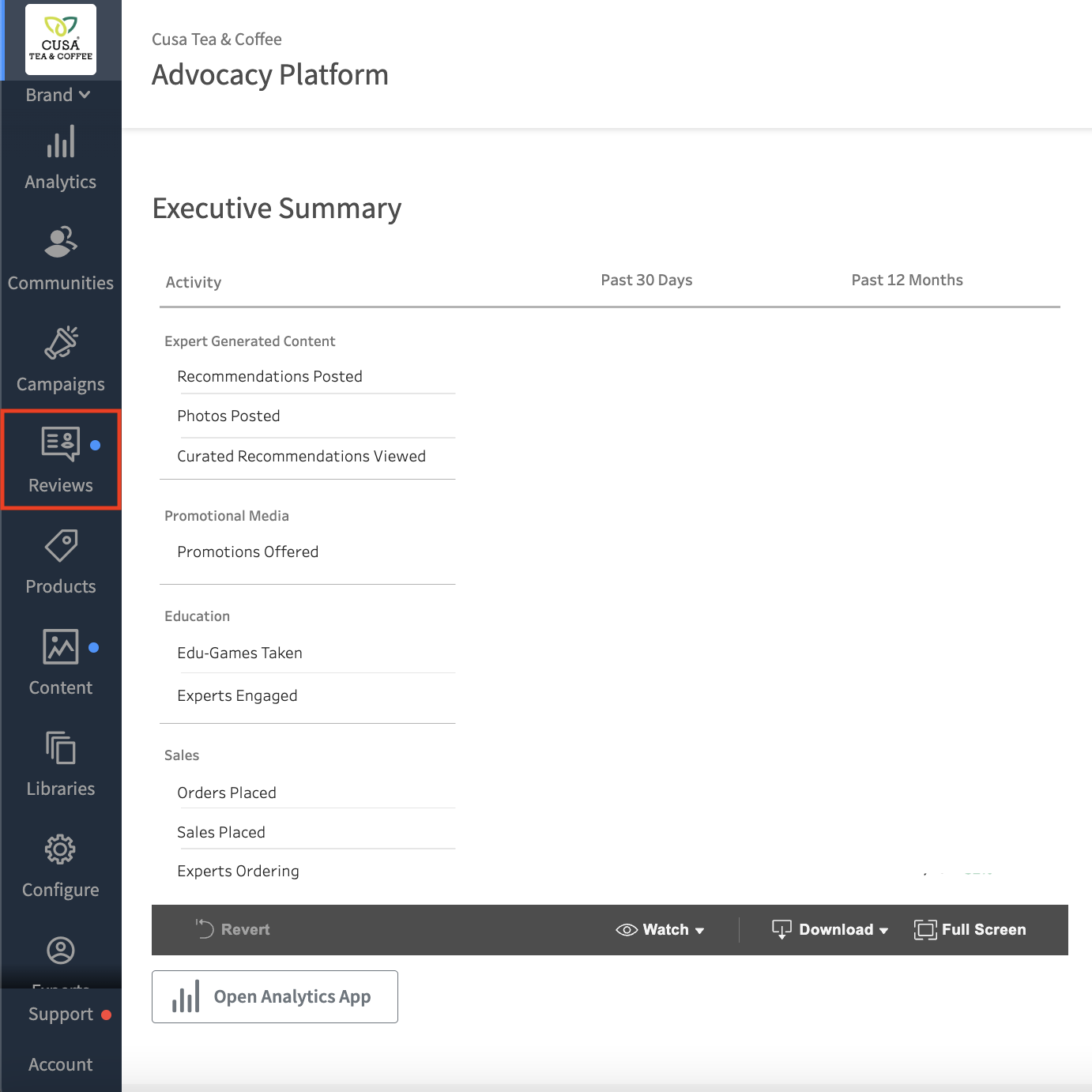 How to engage with product reviews
Reply to an expert's review by typing a comment in the text field beneath any review and clicking "Submit."
2,000-character limit maximum
The expert will get a notification on ExpertVoice when you leave a reply, and it will be sent from your brand
You can edit or delete the comments you submit; you cannot edit or delete the expert's review itself or any comments left by experts on the review
Comments do not syndicate to the ExpertVoice Recommendation Display or any third-party syndication partner
Leaving a quick thumbs up and commenting on positive reviews can go a long way in building a genuine relationship with the reviewer. Thank the users for trying your product and leaving a product review on ExpertVoice.
If an expert leaves a negative review, leave a comment asking the expert to email you for more in-depth feedback. Please provide them with your company's customer service email to take the conversation offline.
Tip: If you want to go above and beyond, maintain a relationship with the reviewer, especially if you liked the text, photo, and/or video they shared in their review. Give them a follow on social media and ExpertVoice, or invite them to your Expert Community.