Overview
A survey is a digital questionnaire promoted on ExpertVoice that requests specific information from a target expert audience. The respondents' answers will help you get to know the experts more personally and collect in-depth research and insights at scale.
Within the Campaign Manager of the Advocacy Platform, you can create a Survey Campaign on-demand, publish it to the ExpertVoice feed and collect real-time insights from a target expert audience. Your survey will have a start and end date, but we recommend running the survey for at least four weeks to ensure you capture enough respondents to reach statistical significance. Alternatively, you can set a desired number of responses, and the survey will run until that threshold is reached.

Access to features within Campaigns varies based on your subscription. To request access to additional features, reach out to your Customer Success partner for more information.
The expert experience
When your survey campaign is published on ExpertVoice, target experts will see the survey as a campaign card encouraging them to take it. The survey is optional, and there is no incentive to complete it, but respondents are encouraged to:
Be informative: They should complete all of the survey questions if possible. The more detail they provide, the better.
Be authentic: The expert should complete the survey to the best of their ability and answer each question authentically and truthfully.
Provide value: The opportunity to share insights with your brand is an exciting and exclusive perk of being an ExpertVoice member. If relevant, the expert should share personal insights from when they first experienced your product.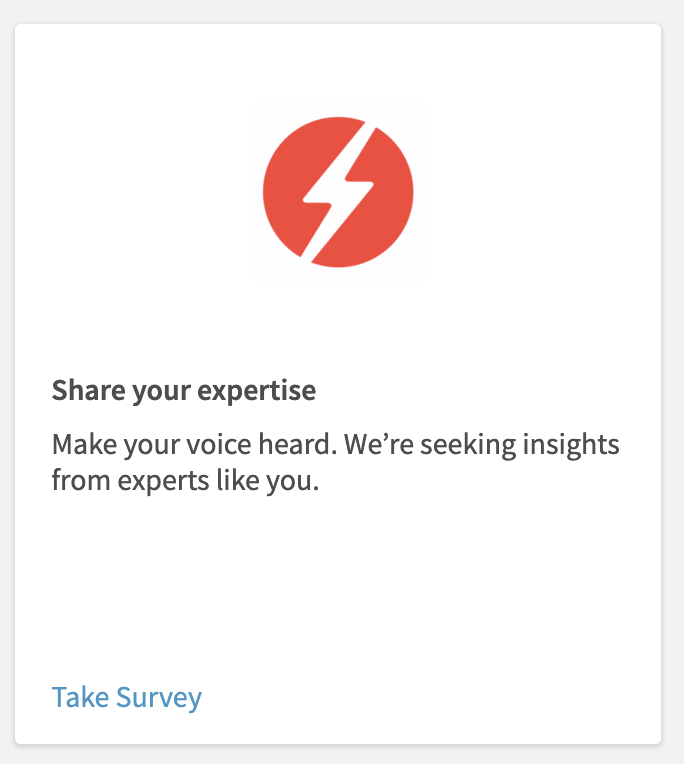 ​
How to create a survey campaign
To get started, visit the Campaign Manager in the Advocacy Platform.
Click on Create New Campaign from the prompt at the top right and select Survey. Give your new campaign a unique name. This name is not expert-facing.
Then, click Continue and start the step-by-step instructions to guide you through building and publishing a survey. Be sure to complete each step in order and save each step. Each step is a save point and must be completed in order; you may not skip ahead.
Like most campaigns on ExpertVoice, a Survey Campaign is created by following the necessary steps in the Advocacy Platform.
Targeting - Determine which expert audience can see and complete your survey.
Messaging - Customize how your campaign will be presented to experts on ExpertVoice
Survey - Add and customize questions that target experts are encouraged to complete.
Availability - Schedule when your campaign will be accessible
When your survey is live, track your applicants and the overall campaign performance within the Campaign Manager.
Tip: Once the survey is published and collects responses, the ability to edit or delete questions is limited. Be sure to fully preview your survey before starting the campaign.
Targeting
In the Targeting step, choose one or more expert audiences to be targeted by your campaign. Only targeted experts will have access to the survey contained within your campaign.
Click Add Audience to select an audience already created and saved in your Audience Library or create a new audience. Learn more about audiences here.
After you select your audience(s), click Save & Continue to advance to the next step.
Messaging
In the Messaging step, customize the copy displayed on your campaign card. This campaign card is how experts can discover your campaign throughout the campaign. Your goal here is to invite experts to complete your survey.
Click Messaging
Type in a campaign headline (40 characters maximum)

Default copy: Share your expertise
Use sentence case (e.g., "Voice your thoughts")
Include a verb
Don't end with punctuation unless it's a question mark.
Avoid writing in the first person

Type in a campaign description (85 characters maximum)

Default copy: Make your voice heard. We're seeking insights from experts like you.
Your brand logo automatically populates the campaign card image. This image and the card's call to action are not customizable.
Survey
You can include a mix of different question types in your survey campaign. Once you align on the essential information you need from expert respondents and get the hang of the question types, you can quickly build out your survey in the Advocacy Platform. Learn more about the survey question types here.
On the Survey step, click Add Question to expand a dropdown menu of question types
Select the question you would like to customize first

Multiple Choice: Single Answer

​

Multiple Choice: Multiple Answer

​

Text: Freeform Answer

​

Linear Scale

​
​

Net Promoter Score (four questions)

Net Promoter Score (one question)

Favorability Matrix

Numeric

Add as many questions as you would like to the application (limit of 50 questions)

To change the order of a question, drag and drop it to a new location
To make a question optional, unclick the checkbox next to Required; to make it required, click the checkbox
To delete a question, hover your cursor to the right of the question and click the trash can icon that appears

Preview how the expert-facing survey will look on the right-hand side of the page
When ready, click Save & Continue
We recommend including no more than ten questions to maximize the number of survey respondents. While it's essential to ask experts the right questions, remember to respect their time. Design your survey as short and to the point as possible. Surveys with up to 10 questions have a significantly higher response rate than those with more questions.
Availability
At this point, you are ready to start your survey immediately or schedule it to start at a future date. At this time, you may also manage additional promotional opportunities to increase your campaign's visibility on ExpertVoice further. Learn more about managing your campaign's availability and promotion.
Survey campaigns are required to have an ending date and/or a maximum number of responses. We recommend configuring both: ending your campaign on a specific date and configuring at least 250 experts to complete your survey before the survey campaign ends.
Under Response Limit, insert the total number of responses you want to collect before your survey ends. Your campaign will automatically end and be removed from your brand page when you hit your total response limit or if you reach your campaign end date.
Note: If you don't receive the total number of responses by your preferred campaign end date, you can extend the survey to run longer. Simply extend the end date, submit your campaign for review if you want your survey to appear in the ExpertVoice feed again, and click Save.
Under Contact Info, insert one or more email addresses separated by commas if you'd like specific individuals to receive an automated notification when the survey has finished collecting responses.
If you want to invite experts to complete this survey directly, you can send them a custom direct link. However, anyone using this link will require an ExpertVoice account to complete the survey.
Monitoring responses
After you publish your campaign, regularly monitor how your survey is performing. The survey results may help inform your company's research and development, marketing, and social media teams.
In the Results tab:
See a bar graph summary showing how many total survey submissions you received compared to your Response Limit.
Click Export Data to download all of the data and share key findings

with other relevant departments in your company.
For Multiple Choice and Freeform Text questions, click View all responses to see the respondents' answers in a separate tab quickly. For the Net Promoter Score question, click Show breakdown of responses for more information about respondents' ratings on a scale from one to ten.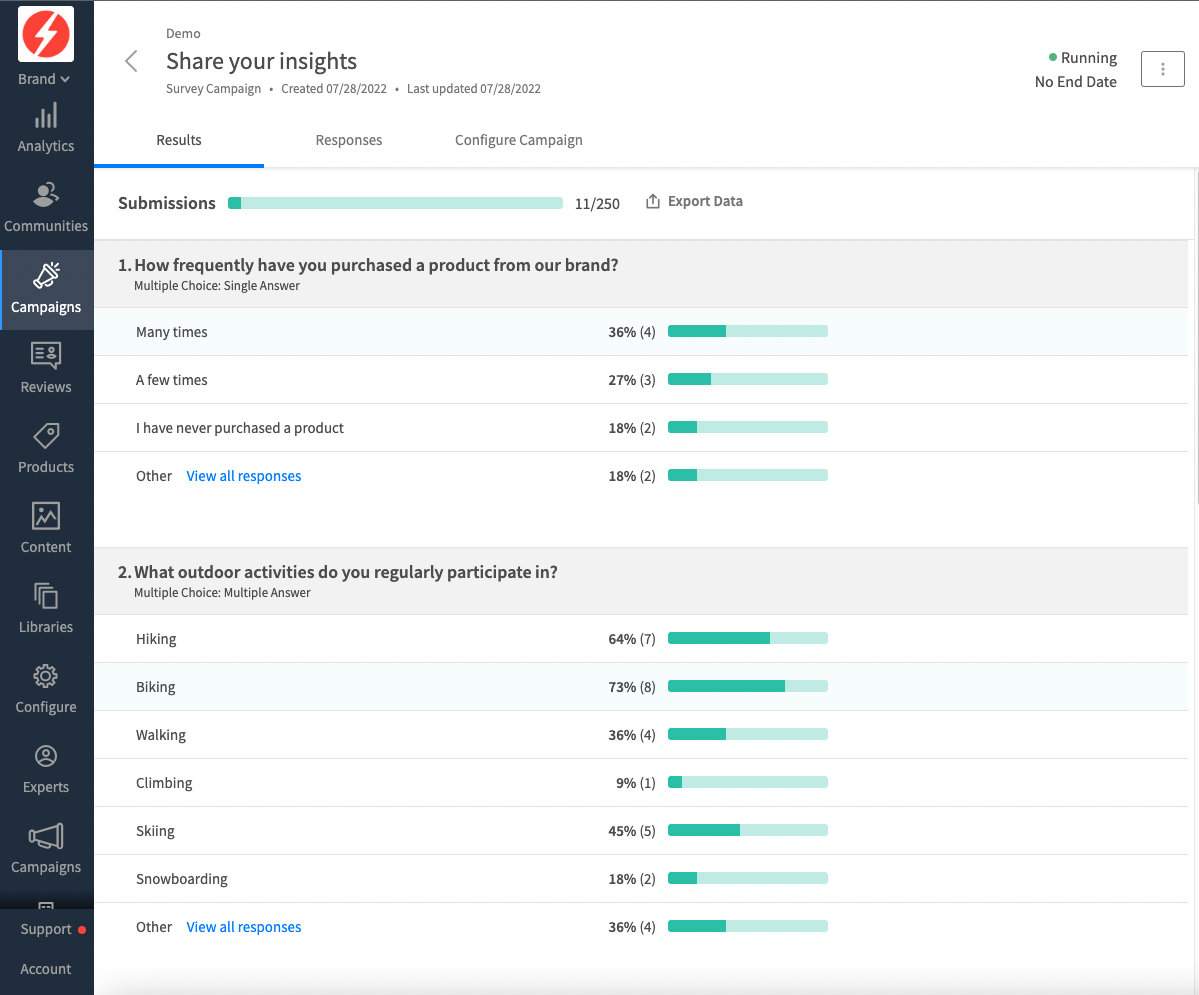 In the Responses tab:
You can refine your survey responses to only show audience members with specific criteria if you'd like.

Recommendations: Show only responses from experts who have previously left a recommendation on ExpertVoice for your brand.
Photos: Show only responses from experts who have previously uploaded a photo and tagged your brand on ExpertVoice. 
Public Profiles: Show only responses from experts who have a public profile.

Click on individual experts to see their ExpertVoice profile and make an internal note about their survey response(s). Other individuals at your brand can see this note in the Advocacy Platform, but the expert will not.
Click Export Data to download all of the data and share key findings with other relevant departments in your company.
TIP: Here is an example of what the exported data looks like in the CSV file.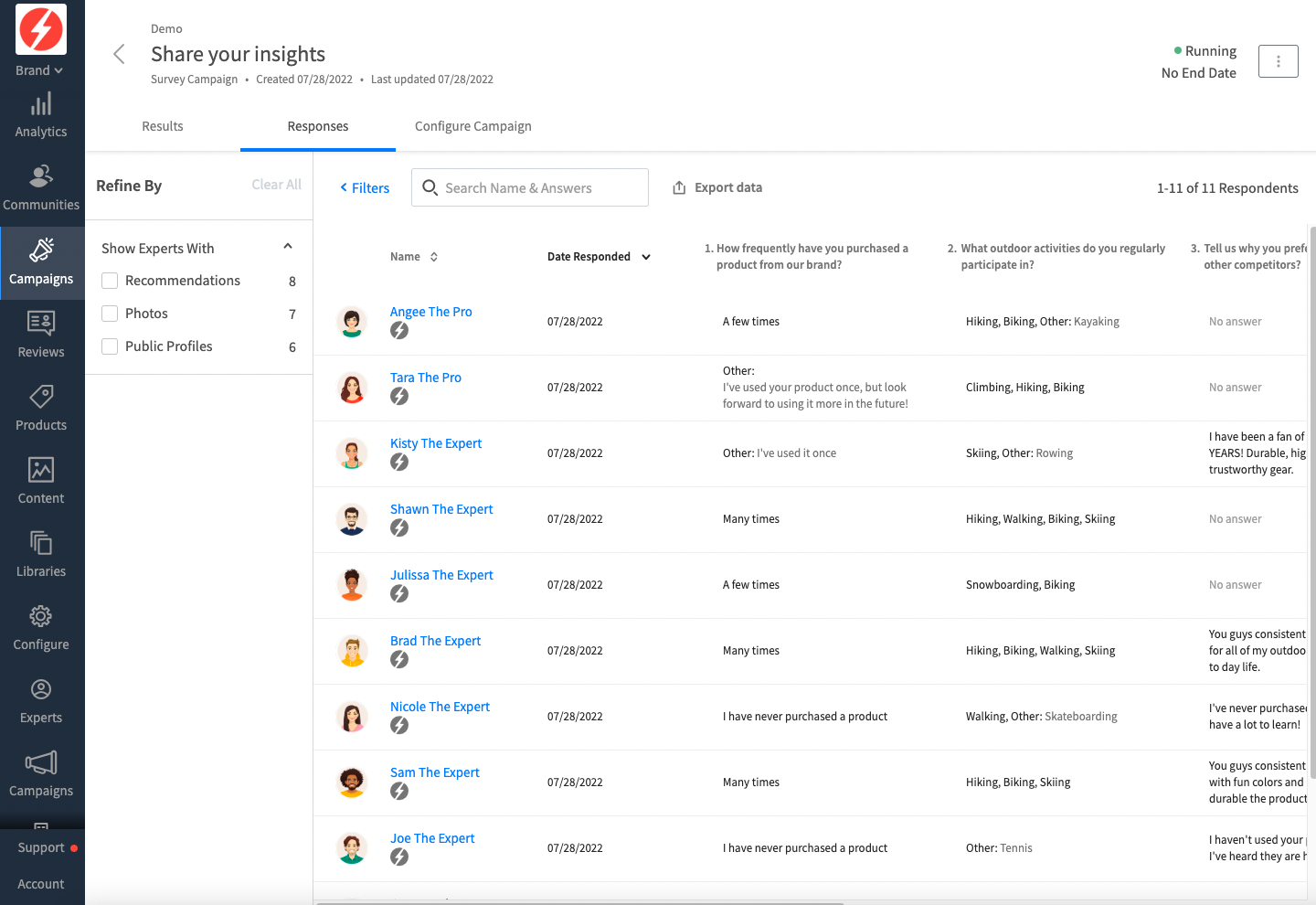 When reviewing your responses, clean up the data if needed. To do so, we recommend checking for the following:
Answers to open-ended questions that don't make sense or are left blank (e.g.,

Text: Freeform Answer)

"Straight-line" answers in any grid questions (e.g.,

Favorability Matrix) when the exact answer is selected multiple times for different questions
Use cases and best practices for surveying
Here are example use cases for launching a survey campaign on ExpertVoice.
Early product research
Conduct early product marketing research with a core group of experts to inform your product positioning and messaging.​
Post-launch feedback
Collect in-depth insights about how your products are being used or perceived in the market during your company's peak-selling season.​
Competitive insights
Gather valuable insights about how your company ranks compared to new and existing competitors in the industry.
Tip: We recommend discussing your survey objectives and preferred timeline with your Account Executive before creating it in the Advocacy Platform. When experts complete your survey, this will impact your brand's total expert engagements and broader program.