Overview
Most campaigns on ExpertVoice can be started immediately after they are fully configured, or can be scheduled to start on a date in the future. Likewise, most campaigns can run indefinitely or can be scheduled to stop automatically.
Note: The ability to create campaigns varies based on your subscription level. To request access to some or all campaign types, reach out to your Customer Success partner for more information.
Start or schedule your campaign for the first time
If a campaign has not yet been started and has never run, you can configure the campaign's schedule in the Availability step. This is the final step to fully configuring a campaign.
Start a campaign immediately
To start a campaign immediately, click the Start Campaign Now button on the Availability step. The campaign will start immediately and be accessible to your target audience on ExpertVoice. Without any additional configuration, the campaign will run indefinitely, without a stop date.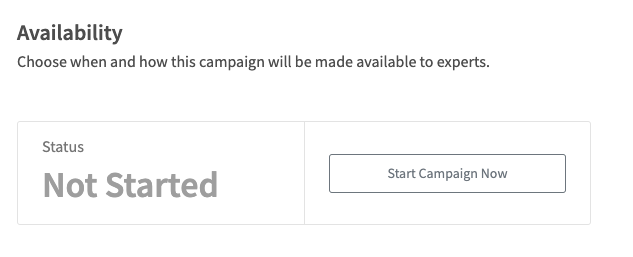 Schedule a campaign to start or end in the future
To configure a campaign to start in the future, and/or to set a stop date, complete the Schedule section. Some campaign types might require an end date to be provided.
Note: Be sure to Save the campaign once you have set a start or end date.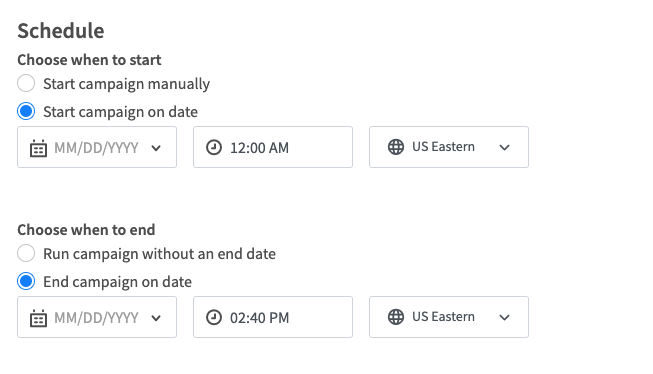 Verify your campaign's placement
The campaign's Availability step also provides information as to where your campaign will be accessible on ExpertVoice to its target audience. Most campaigns will default to be available on your brand page.

Stop a live campaign
Once a campaign has been started manually or automatically, the Availability step is available under the Configure Campaign tab.
The campaign can be ended immediately by clicking End Campaign Now. Alternatively, you can set an end date in the future for a running campaign.
Note: Be sure to Save the campaign if you configure an end date.
Restart a campaign
Once a campaign has been stopped, revisit the Availability step to restart the campaign. Click Restart Campaign to restart the campaign or adjust the schedule.
Clicking Restart Campaign will not immediately restart the campaign. You can choose to start the campaign immediately or set a start or end date.