Overview
Your community members are real people with real influence, not just social media influencers with a bajillion followers. As such, they aren't a "set it and forget it" resource for your brand. An activity campaign is one of the best ways to engage members of your community. Adding a challenge campaign gives your members an extra opportunity to engage with other community members and creates a fun atmosphere for members to spend more time.
Please Note: The Activity Campaign and Challenge Campaign features are available to brand users who have signed up for Community Manager. To gain access, reach out to your Account Executive or contact us for more information.
Create a successful Challenge Campaign
Think about what subject you want your challenge campaign to be about-it could be a specific product line, the history, and mission of your brand or a mix of whatever you'd like your community members to be knowledgable on.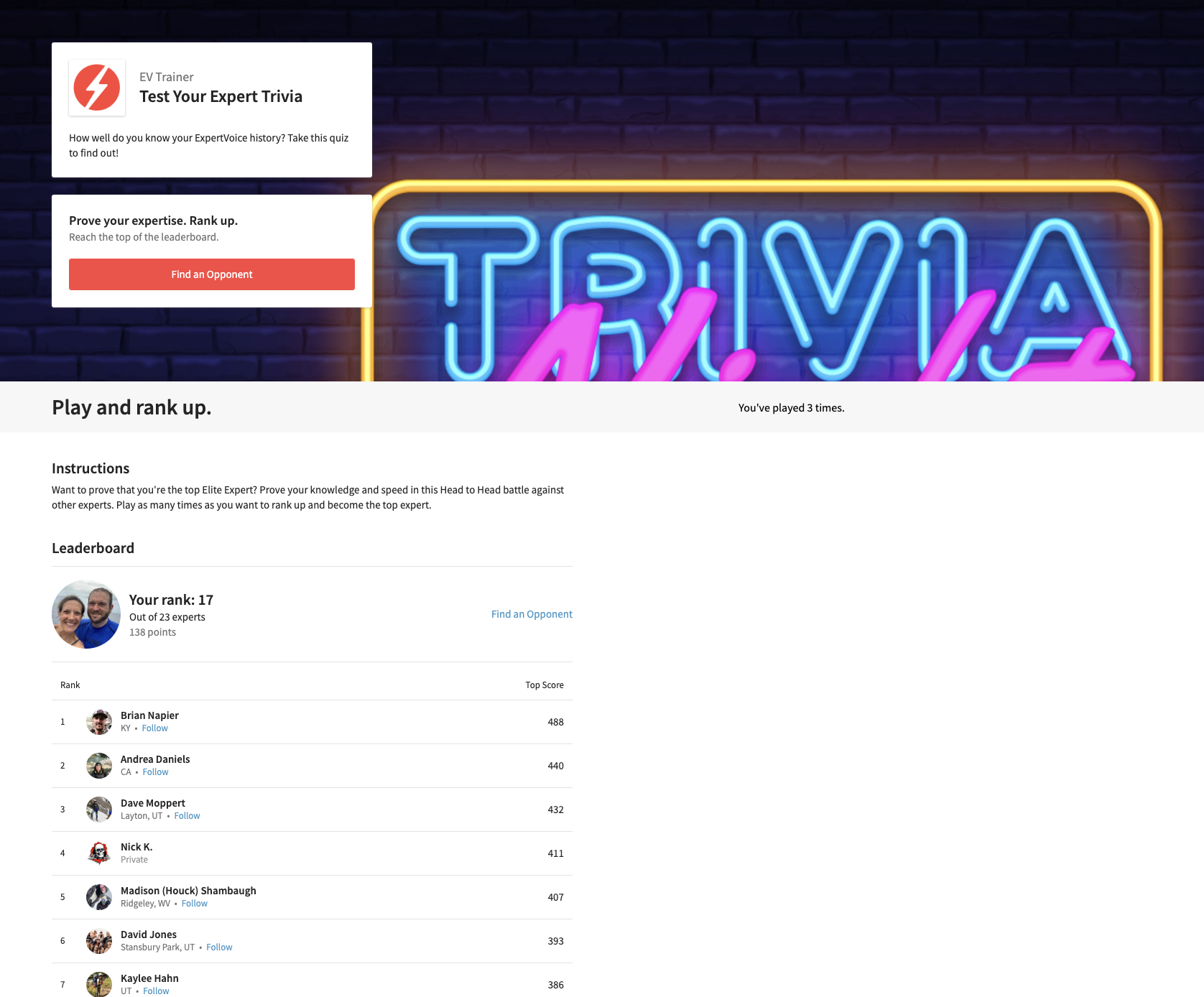 Get started
First, determine your topic or theme and how many questions you'd like to use. When designing your question and answer, your correct answer should not be an obvious one surrounded by other unlikely answers. The level of difficulty is up to you. Make this as tough as you want for your community members to ensure they know the information you expect at an Expert level.
Question Type: Multiple-choice
Answers: At least 2 possible choices, up to 7 per question
Pro Tip: Create a pool of at least 10 questions for the campaign to cycle through
Next, determine the number of questions experts will answer each time they start the challenge campaign.
Pro Tip: The pool of questions should be at least double the size the number of questions in one game. This ensures that each game will have different questions and answers. (EX: Create a pool of at least 10 questions for a game that will pose 5 questions.)
Then, determine the response time limit (in seconds). If the question and answers are relatively short, 4-5 seconds might be adequate. If some questions require additional reading time, add a few extra seconds for players to answer each question.
Lastly, don't forget to monitor the leaderboard for participation: how your community members rank, their high scores and how many times they have played.
Create a successful Activity Campaign
Activity Campaigns are beneficial to engage your community members in completing an activity and verifying their participation. Creativity is the limit...almost any activity that would support your marketing purposes or aid in gaining feedback for your brand is possible to track in an activity campaign through image proof of participation.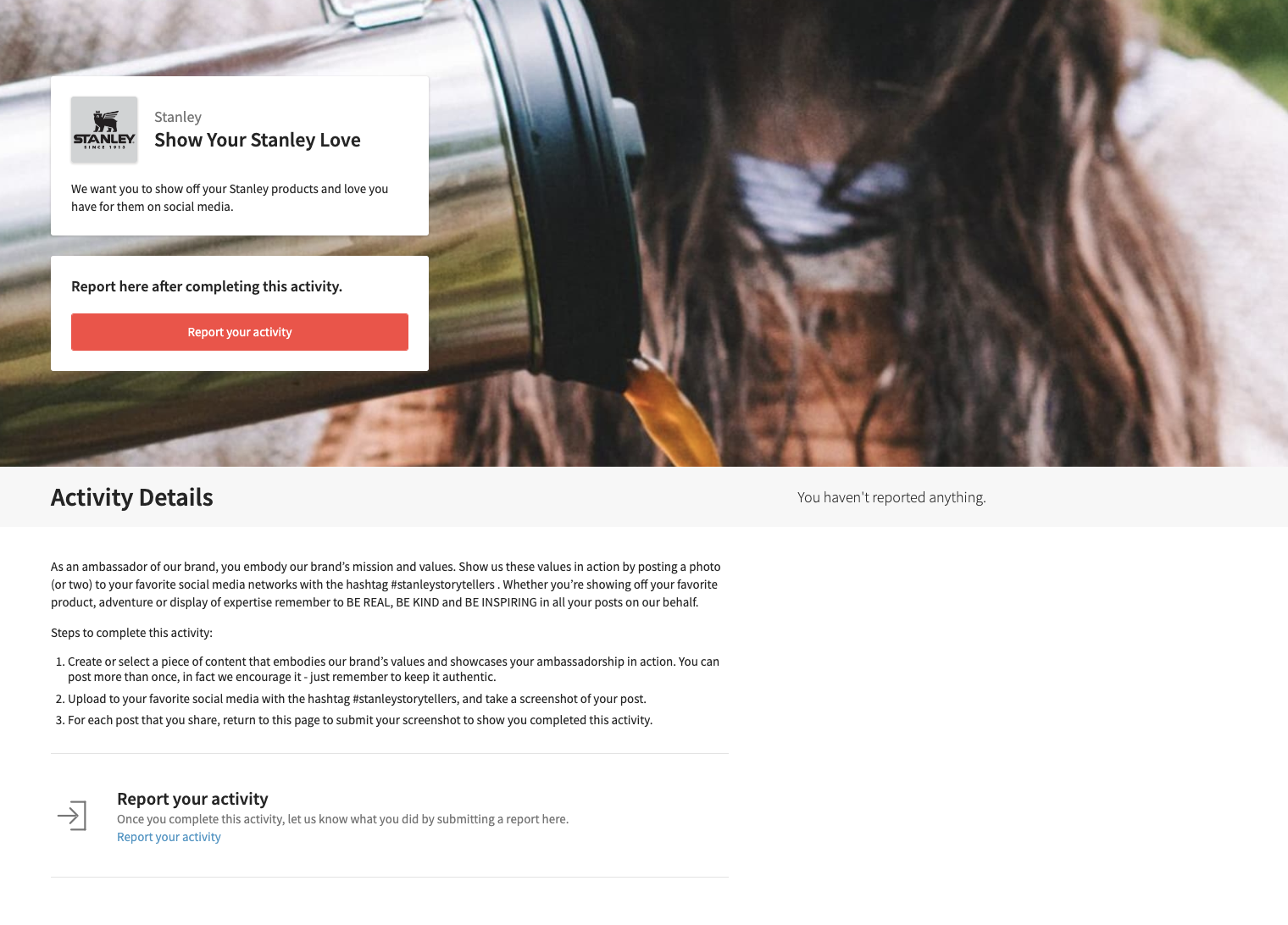 Get started
Ask yourself, "What would be helpful for my community members to do on behalf of our brand?"
Here are some examples to get you thinking:
Ask your community members to write a review
Post UGC on a social network
Host an event
Share brand information regarding their retail store
Develop the details of your ask. The more your community members understand your expectations, the greater participation & success you'll experience. In addition to developing the details of the activity, you will need to also answer the following questions:
Timeframe for completion
The number of times you want your community members to complete the task
Proof of activity
Consider how you will collect proof of the activity or what questions you'd like to see answered regarding the activity. The campaign allows for your community members to upload an image for proof, as well as create questions that you would like your members to answer regarding the activity.
Monitor participation in the activity campaign where you can see a summary of how many people you are targeting with this campaign, the total number of campaign submissions, and how many of your community members have submitted proof. You will also be able to view each individual's submissions in detail.
Pro Tip: Monitor participation regularly so you can send additional communications as needed to gain the participation you expect.