Overview
Expert photos or UGC are uploaded to ExpertVoice by credentialed experts in a specific category and backed by resumes. During their onboarding experience, experts are encouraged to regularly post photos of products they have purchased or experienced to show off their expertise. Experts can tag relevant brand(s) in the photo, share what categories the image relates to, and write a short caption.
After the image is published, the tagged photo appears on the expert's profile and the brand's page and can be featured in the Experts feed as well. Brands and other experts can engage with the photos they see on the platform by giving the photo a thumbs up or down or by leaving a personalized comment. After someone engages with an expert's photo, the expert is notified via an on-site notification, and they can review the photo engagement(s) if they'd like.
Note: All brands have access to view photos shared by experts in the Content Manager in the Advocacy Platform. At this time, photos uploaded to product reviews do not appear here.
Why it's important to monitor and engage with expert photos
Recognizing experts rewards them for sharing quality content. Connect with and celebrate authentic contributors to build better relationships and encourage more content creation. Experts on the ExpertVoice platform enjoy sharing their expertise with their peers. Simple recognition and contact from you, the brand, for sharing content encourages them to share more.
Once a photo is uploaded to the platform, the image is visible to all users on the expert's profile page (if it's a public account), the tagged brand's page, and the Experts tab.
With this in mind, it's best practice for brands to monitor and engage with all experts' photos – good or bad – to ensure all experts feel like their photos are valued. Reward the expert by helping them feel valued for their shared content.
Who should monitor your brand's product photos
Designate someone within your team to handle responses — much like you would with your social media account. If you are not the individual in charge of engaging with photos, ask someone on your social team to manage this responsibility, your rules of engagement, and how frequently you will monitor the photos.
We recommend that the content responder develop a response strategy to ensure all expert photos are addressed promptly and in a way that strengthens your brand's relationship with that expert, no matter the photo caption's sentiment.
How to monitor expert photos
Ideally, your brand will respond to published photos within 24 hours, but we understand that is not always feasible. We recommend your designated content responder set aside time at least once per week to review recent photos and other engagements, such as member comments, on the photos.
The Content Manager is where you can efficiently view and engage with all photos your brand has received since you started collecting photos on the platform. The default view shows photos that experts have tagged your brand in.
As new photos are published, a blue dot will highlight new photos for you to monitor and/or engage within the Content Manager. New photos you have not yet seen since your last visit to the Advocacy Platform will appear at the top of the page and include a high-level summary of the total number of new photos. Older photos you have already seen will appear at the bottom of the page.
Tip: The blue dot only appears if there are new photos that you, a unique user, have not seen yet in the Advocacy Platform. If another unique user monitors and engages with your brand's expert photos, you would see this other user's thumbs up or down and comment(s) if they have already engaged with the more recent photos you have not yet monitored.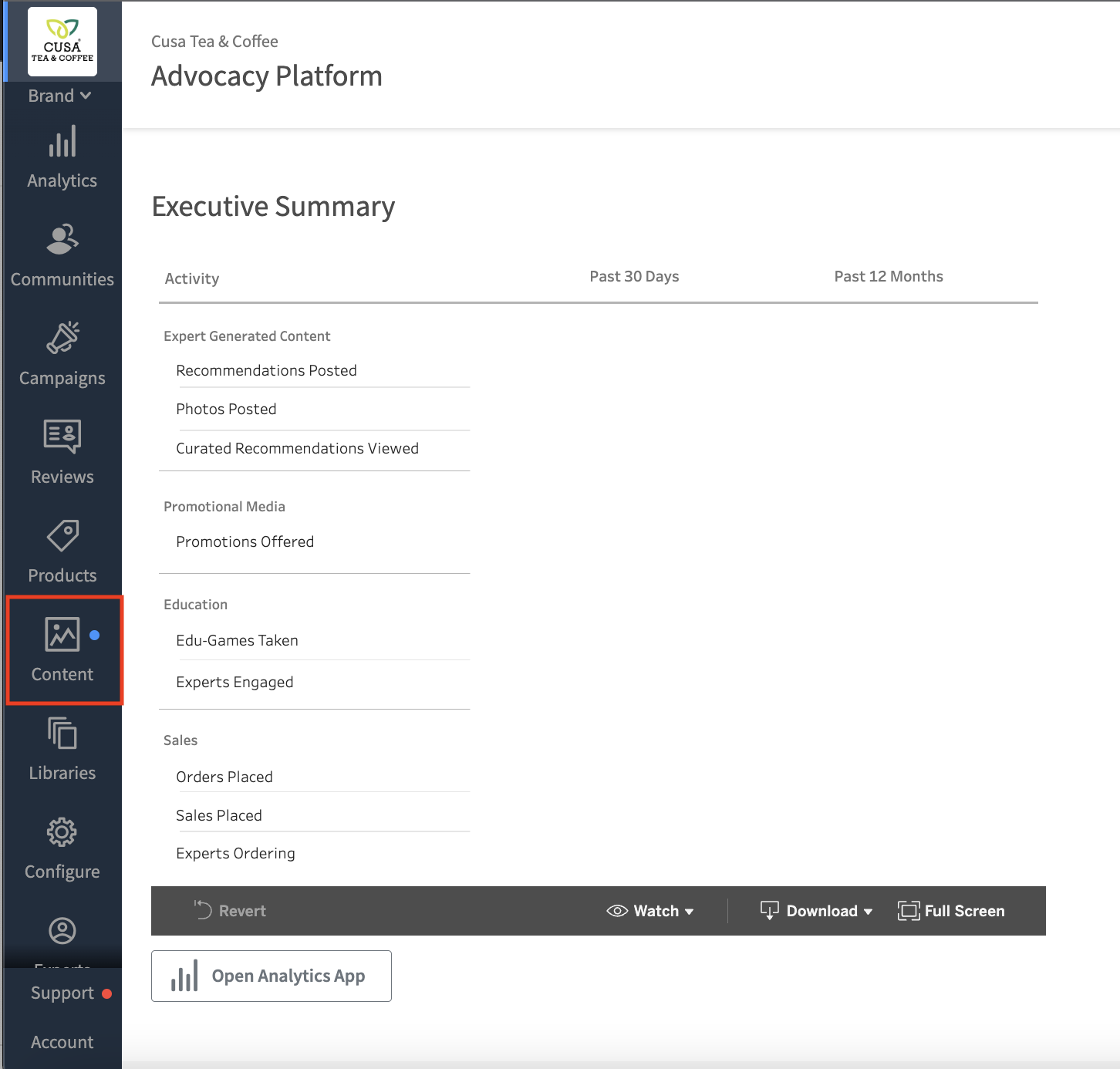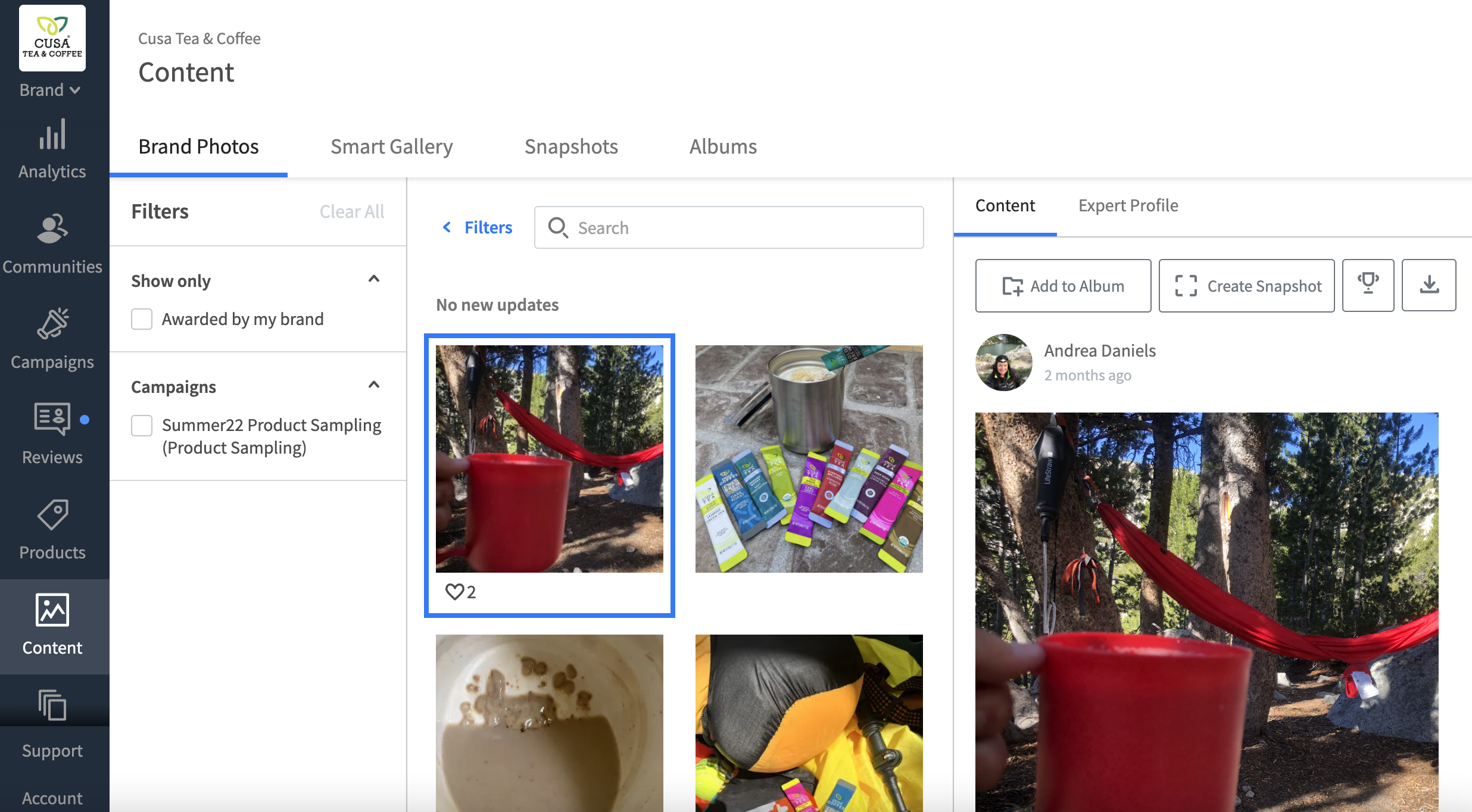 How to interact with UGC
Award the expert with an Excellence Award
Find an image you like in the Content Manager

By default, you will see your Brand Photos. Click on Smart Gallery to see other UGC you might want to use.

Hover over the image or click on the image

Click on the award icon thumbnail or in the sidebar to the right

Use the templated message or customize it

Send the award
This award you send to the expert will show up in their inbox, on their profile, in an onsite and push notification, on the Experts Tab, and your brand page under ExpertVoice Excellence Awards
Tip: Award images you as a brand are tagged in or images you will use in your marketing efforts from the Smart Gallery. It's best to customize the message for the Excellence Award. Think of this as your opportunity to connect with an expert and build advocacy.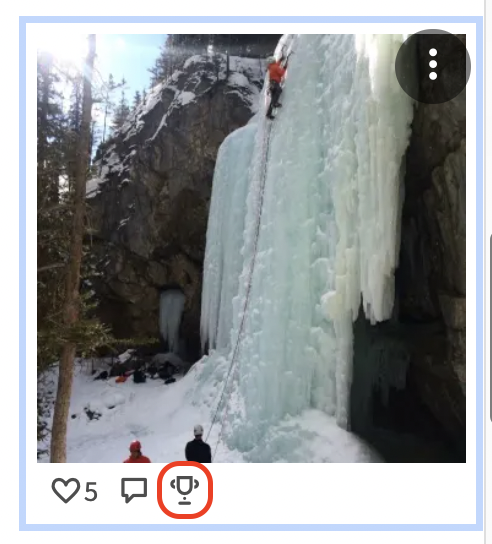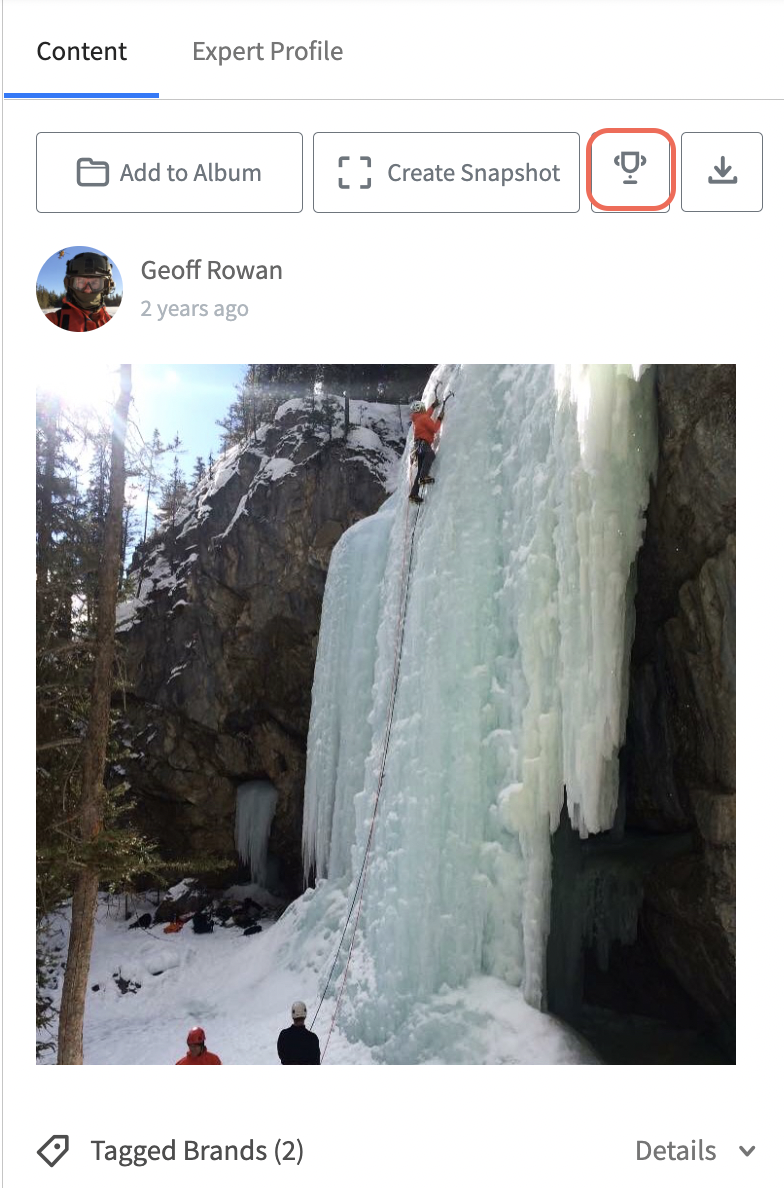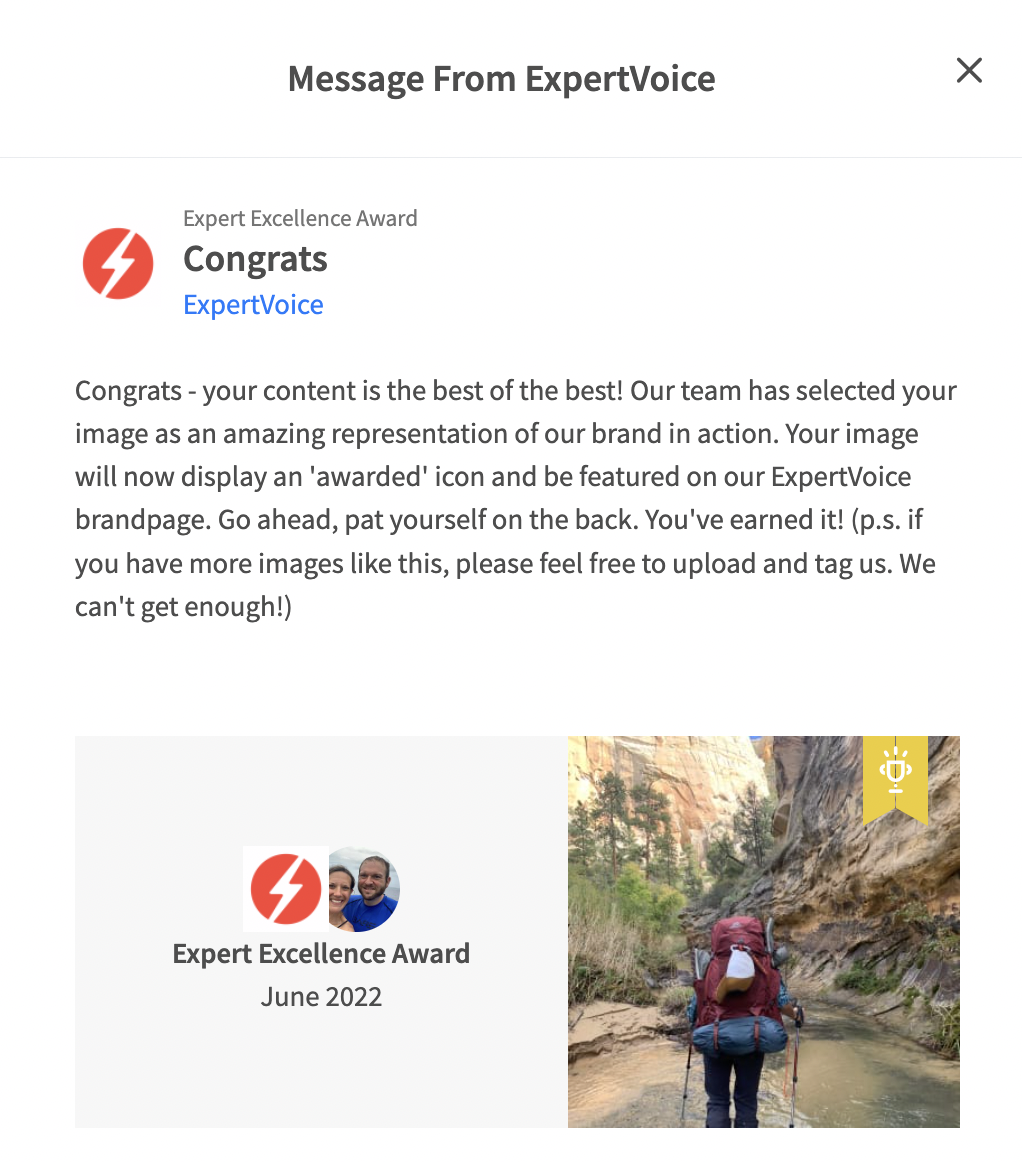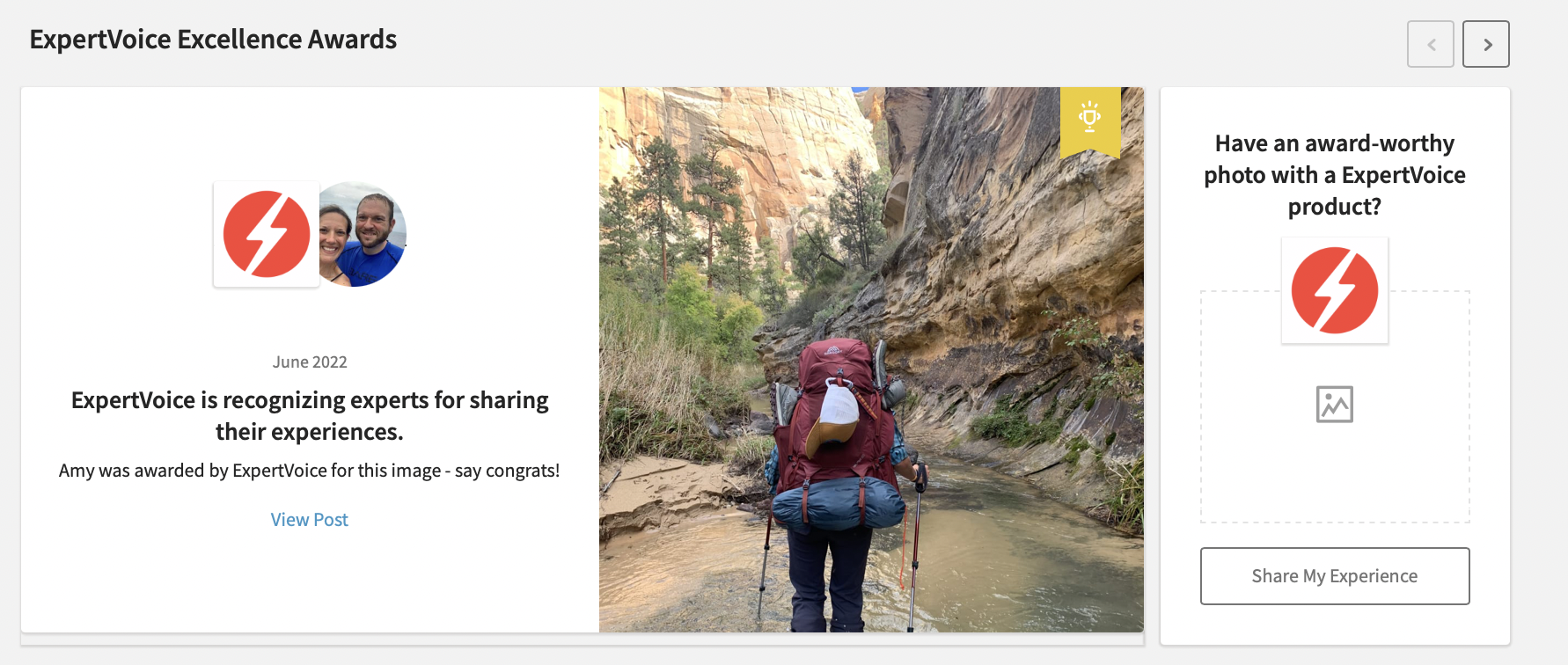 Tip: You may award an image one time. Don't forget to use the UGC in your social campaigns.

Leave a comment
Click any photo and type a comment in the text field beneath the photo. Click "Submit."
2,000-character limit maximum
The expert will get a notification on ExpertVoice when you leave a reply, and it will be sent from your brand
You can edit or delete the comments you submit; you cannot edit or delete the expert's post itself or any comments left by experts on the post

Like an image
Click or hover over any photo and click the thumbs-up icon
Leaving a quick like (represented by the heart icon) and commenting on positive photos can go a long way in building a genuine relationship with the expert. Thank the users for trying your product and sharing a photo on ExpertVoice.
If an expert leaves a negative photo, leave a comment asking the expert to email you for more in-depth feedback. If you'd like provide them with your company's customer service email to take the conversation offline.
Tip: If you want to go above and beyond, maintain a relationship with the expert, especially if you liked the quality of their photo. Review their Expert Profile and give them a follow on social media and ExpertVoice, or invite them to your Expert Community. We encourage you to use the award feature most often, as you and the expert will receive the most benefit. Download their photo and use the image in your company's marketing materials while giving credit to the expert.