Overview
A video review is an authentic testimonial recorded and uploaded to ExpertVoice by an expert who has experienced a brand's product and wants to share feedback with others.
Product recommendation videos can help others make more informed decisions before making a purchase and are an excellent way for experts to share authentic insights about the product they have experience with. It's also a great way for experts to share their passion and expertise. Expert-generated videos, like their text and photo-based recommendations, can increase purchase confidence and drive on-site conversions.
Video recommendations uploaded to ExpertVoice can be viewed by other experts on the platform, commented on by the brand, and syndicated to third-party websites if desired.*
The uploaded video(s) will appear on the brand's relevant Product Display Page (PDP), the Expert tab, and the reviewer's profile page on ExpertVoice.
In addition to uploading the video(s), the expert will share how familiar they are with the product and select which category the product is best for.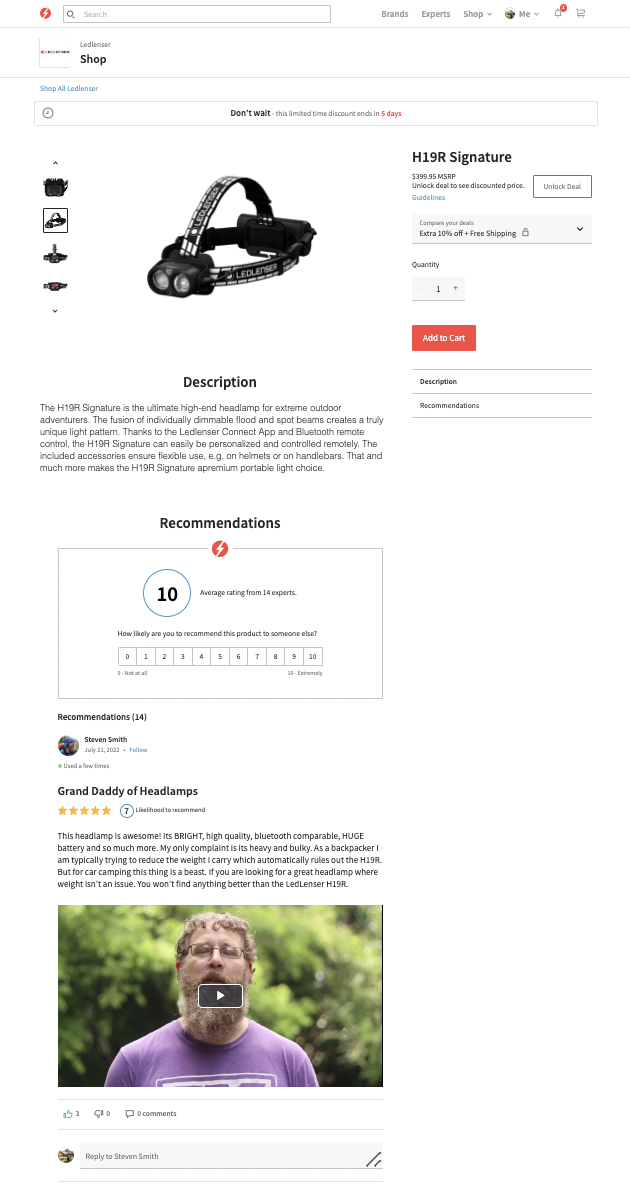 The video content
Experts sharing video recommendations on ExpertVoice are instructed to keep the content simple and keep these best practices in mind:
Film the video using a personal phone to make the video feel more authentic and trustworthy
Film the video horizontally
Make sure they are filming in natural even lighting
Be authentic and share how they used the product
Shoot in selfie mode with the camera facing the expert
Flip the camera around and take close-up footage of the product and its features
Consider editing the video to remove any long pauses or potential errors
How to collect video reviews
If you have a hosted store or product catalog on ExpertVoice, it's easier than ever to collect video content from your target expert audience. After an expert experiences a product, they are automatically notified on the platform to share a recommendation in the form of a text, photo and/or video-based review.
See more ways to collect video reviews here.
View your brand's video reviews
Visit the Review Manager in the Advocacy Platform
On the left-hand Filter By menu, scroll down and click Show Only to expand the available filters
Select Video Attached to show product recommendations which include a video

If your brand has already collected organic video recommendations, they will automatically appear here and be sorted in order from the most recent to the least recent
If your brand has not collected any video recommendations yet, consider implementing one or more of these tactics to encourage experts to publish more product video testimonials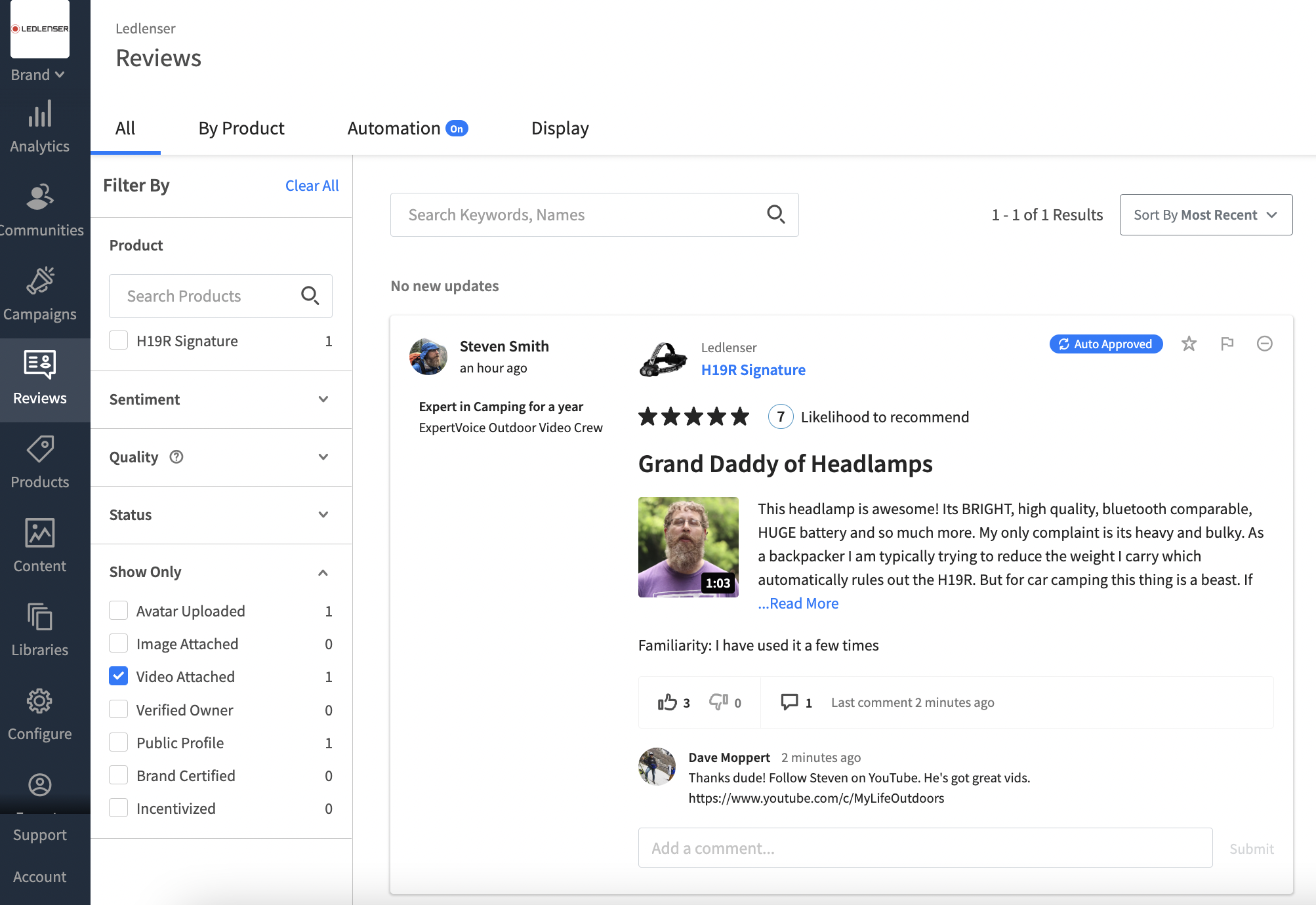 Monitor and engage with video reviews
If you have a hosted store or product catalog, Reviews—also known as the Review Manager—is where you can efficiently view and engage with all video recommendations that your brand has received since experts started to publish video recommendations (Note: Available as of late Q2 2022). We recommend monitoring your brand's video recommendations weekly and personalizing your replies.
If you'd like to reply to an expert's review, type a comment in the text field beneath any review and click "Submit."
2,000-character limit maximum
The expert will get a notification on ExpertVoice when you leave a reply, and it will be sent from your brand
You can edit or delete the comments you submit; you cannot edit or delete the expert's review itself or any comments left by experts on the review
Comments do not syndicate to the ExpertVoice Recommendation Display or any third-party syndication partner
You can download the video attached to a video recommendation by visiting the Review Manager and clicking the arrow on the top right-hand corner of the video.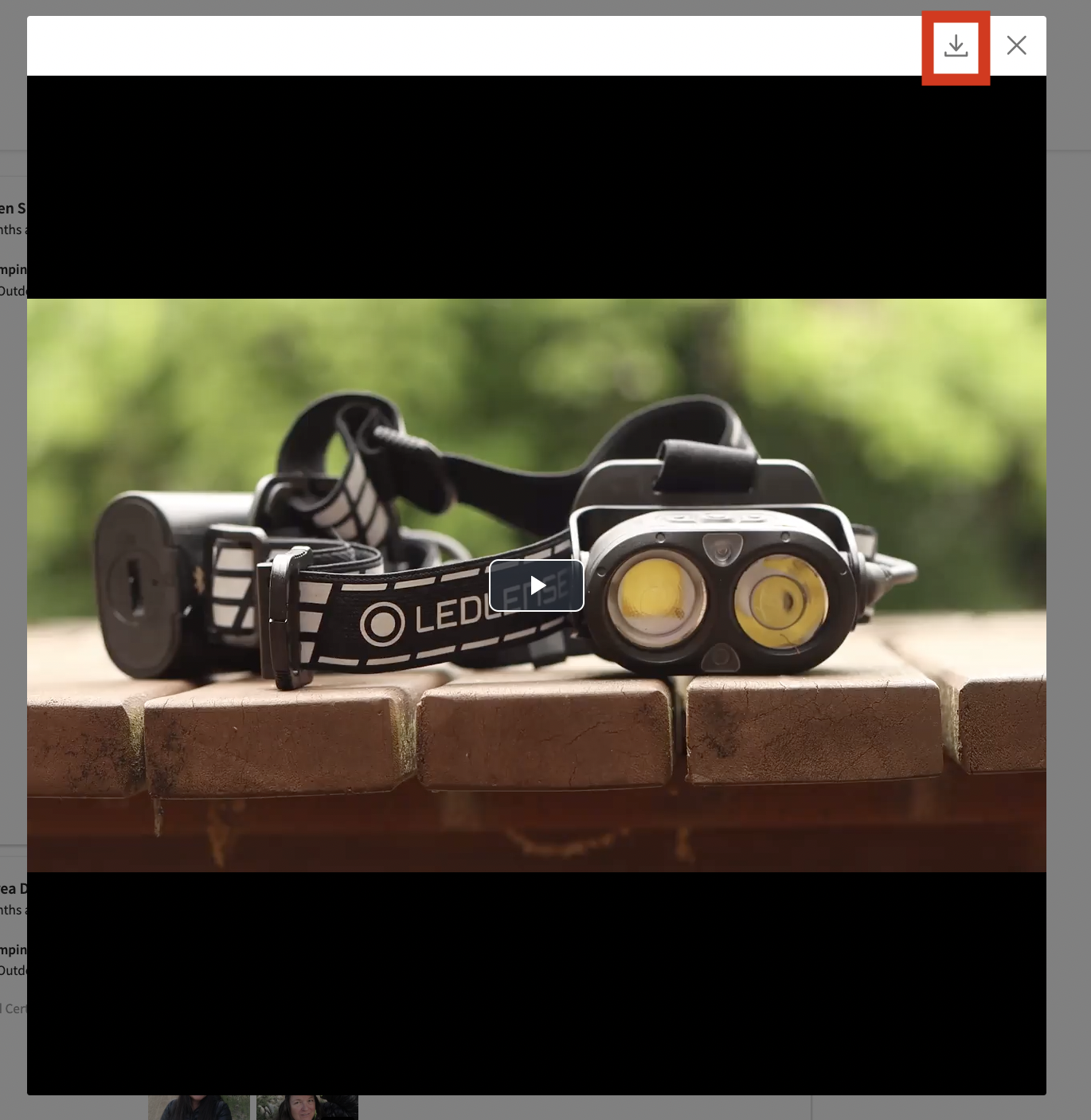 If you have the ExpertVoice Recommendation Display, learn how to manually approve or auto-approve the review for syndication here.
Tip:
In the
Review Manager
, filter your product reviews by
Video Attached
to make it easier to see which reviews still require moderation or engagement.
Syndicate video reviews
If you have E-commerce Advocacy, it's easier than ever to syndicate video recommendations to your ExpertVoice Recommendation Display or other third-party syndication partners. After an expert publishes their video testimonial, you can either manually or automatically syndicate their review to your Recommendation Display. Suppose you syndicate your expert reviews to a third-party (Bazaarvoice, Yotpo, and/or PowerReviews). In that case, these video reviews will appear on your third-party Ratings and Reviews Display after they are published on ExpertVoice if you allow videos to appear in the syndicated reviews. You must enable video reviews to appear on your third-party display for expert reviews to appear there.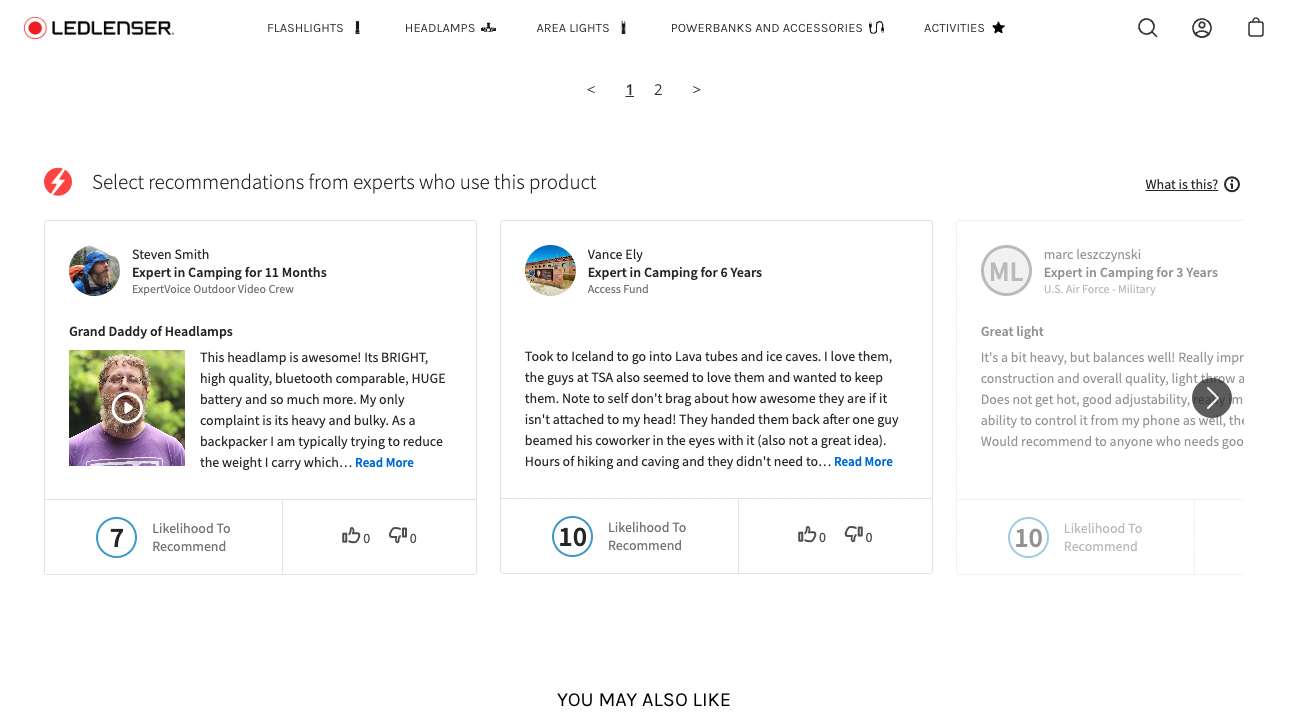 Supported videos
Supported file formats:

Mpeg-4 and QuickTime Formats (MP4, MOV, QT, and M4V)
Flash Video (FLV and F4V)
Microsoft Windows Formats (AVI, ASF, WMV, and WMA),
MPEG-1/2 (MPG, M1V, M2V, MP3)

Supported file size: 4GB or smaller
Maximum videos per review: 20, which can be a mix of videos and photos
*If a brand has the ExpertVoice Recommendation Display and/or Third Party Review Syndication.