Overview
Enjoy full access to all images shared by any expert on ExpertVoice. Filter by theme and tagged photos. Select images that fit your brand image and goals to support your marketing efforts. This is a great option if you lack brand-specific or tagged UGC for your campaigns.
Browse all UGC
Login to the Advocacy Platform and visit the Content Manager.
Click on the Smart Gallery tab
Select one or more themes to browse relevant images
Scroll down and click any photo:


Select Expert Profile to learn more about the content creator's background
View any other tagged brands under the selected photo
Select Add to Album to save and organize the photo in a separate location that you can reference later
Create a Snapshot to customize and share a social media post using the photo
Award the photo if you'd like to notify and thank the creator for publishing it
Download the photo to save and repurpose it later
Tip: Turn on the Brand is tagged filter to only surface photos in which creators have tagged your brand on ExpertVoice.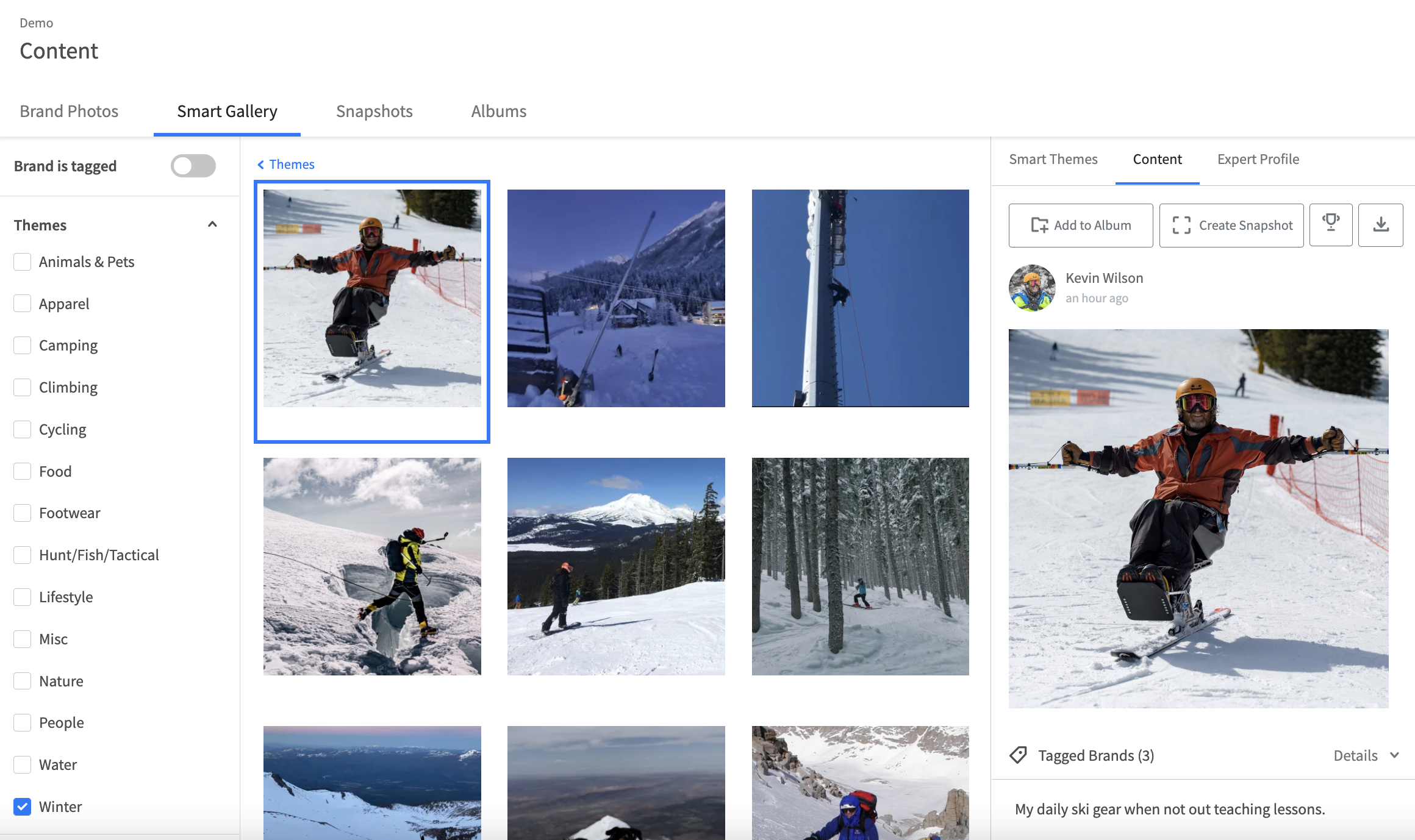 Best Practice for repurposing UGC: Use your discretion, but we recommend choosing images relevant to your brand and campaign goals where competitors are not featured in the image.
Note: Do you see a photo that is miscategorized? Our machine is still learning, be sure to let us know by clicking Mark as miscategorized in the right sidebar.
Browse your tagged UGC
Login to the Advocacy Platform and visit the Content Manager.
Click on the Brand Photos tab (this is the default tab)
Scroll down to see all of the photos your brand is tagged in
Click any photo:


Select Expert Profile to learn more about the content creator's background
View any other tagged brands under the selected photo
Select Add to Album to save and organize the photo in a separate location that you can reference later
Create a Snapshot to customize and share a social media post using the photo
Award the photo if you'd like to notify and thank the creator for publishing it
Download the photo to save and repurpose it later
Tip: You can also filter by your tagged images in the Smart Gallery