Overview
Get started setting up your own product seeding store by first learning more about the Campaign Manager. There are two types of campaigns that you can choose from:
Once you have defined what type of campaign you'll set up or be using, your target audience and lessons (if you'll be using them), you'll then create the incentive, the brand-managed redirect store as part of the campaign.
Note: Access to the Campaign Manager is based on your subscription level. To request access to all features, reach out to your Customer Success partner for more information.
Set up your brand-managed redirect store
Visit the Incentive Library in the Advocacy Platform and complete the following steps
Name and description: Describe the incentive that will encourage experts to complete your campaign lessons (if applicable) and begin purchasing your products.
An incentive link: An incentive link is also called a "redirect store." In the Advocacy Platform, you can enter a URL that will redirect target experts from your ExpertVoice campaign to a different store or e-commerce website. Target experts who click the link

can redeem the incentive they earned on ExpertVoice and shop on the provided URL.

Promotional Codes: A promotional code, or a promo code, is typically a mixture of letters and numbers that make up a specific unique code. In the Advocacy Platform, you can choose whether or not to provide experts with promotional codes for successfully completing your campaign. A target expert can insert this code into an e-commerce website to gain discounts on a product or service like free shipping. It's intended to influence an expert to make a purchase from your brand. Code options are listed below:

Upload single-use promotional codes which means target experts get access to different promo codes to use at checkout.
Upload multi-use promotional codes which means target experts get access to the same promo code to use at checkout.
Redirect experts to a URL with no promotional codes which means target experts automatically get access to the incentive without needing to insert a promo code at checkout.


Note:

To aid in identifying ExpertVoice orders in your internal reporting, it is recommended that your promo codes have a distinct prefix; commonly EXP or EV.

Rules and Guidelines: Select the rules and guidelines you would like to share with experts when they have earned an incentive from you. Clarify how experts are allowed to use their rewards.
Custom Rules and Guidelines: Any additional rules or guidelines you would like to share with experts who have earned an incentive from you. Examples include All orders are subject to availability or Free shipping only available in the United States.
Tip: Typically, a brand will upload promotional codes that redirect experts to their website. We recommend unique codes over generic codes since they are less susceptible to abuse or fraud, and you can choose to: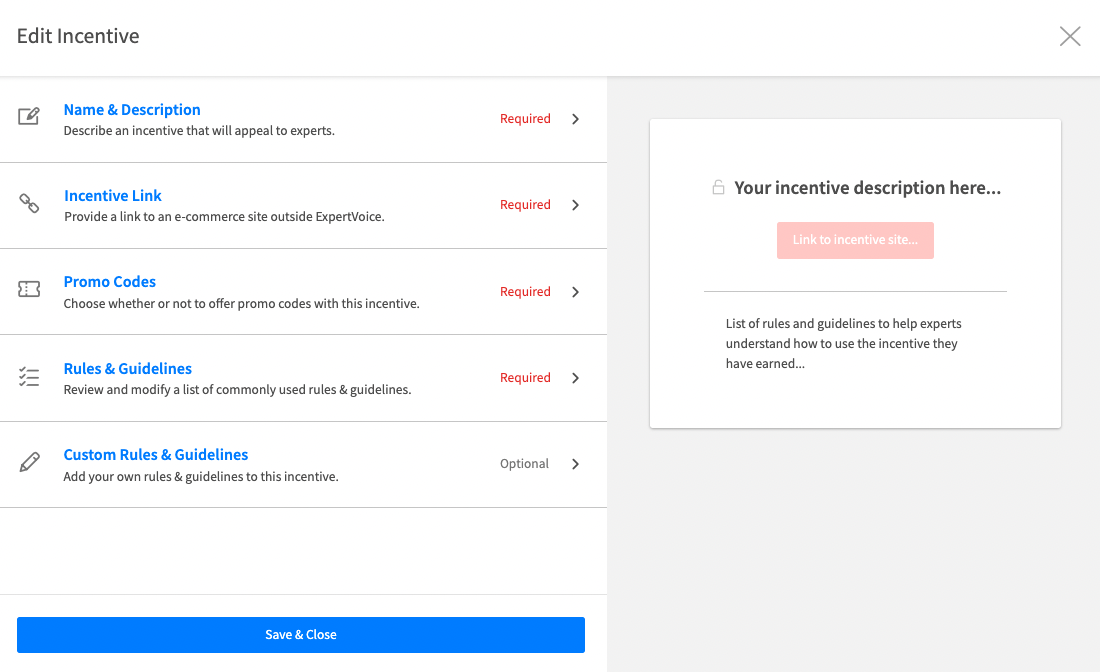 Tip: For a positive expert experience, ensure your incentive is competitively priced compared to other sales channels, products are in stock, the fulfillment time is quick, and shipping costs are low. If you rely on promotional codes as your incentive, regularly monitor their status in the Incentive Library to see if or when the codes are running low.
Add the incentive to a campaign
Once you have determined the type of campaign you want to use, create a new campaign or choose from an existing one. Complete the step-by-step instructions within the Campaign Manager in the Advocacy Platform to set up a new campaign. Be sure to complete each step in order and save each step along the way. Each step acts as a dedicated save point and must be completed in order; you may not skip ahead.
A campaign consists of the following steps:
Targeting - An audience of experts
Lessons - One or more lessons (if using an education campaign)
Incentive - A single store, deal or incentive you are offering
Messaging - Define how the campaign will be presented
Availability - When and where the campaign will be accessible