Overview
Once you have completed setting up your community page and messaging options, you are ready to build your application.
Please Note: The Community Manager feature is available to brand users who have signed up for Community Manager. To gain access, reach out to your Account Executive or contact us for more information.
Build your application
Start by clicking Add Question

Choose your question type

Enter your question and answer options as applicable

Make the question required or not. The default is required

Continue adding questions until you have added all the questions you plan to ask on the application

Use the preview on the right as you enter your questions to see what the application will look like

Use the six dot button on the left of each question to reorder questions
Click Save & Continue
Tip: Applications with less than 15 questions have a significantly higher response rate than those with more questions. Design your application as short and to the point as possible. Keep in mind that you'll see expert's responses as well as their entire profile so you'll have plenty of information available when it comes time to accept members.
Tip: You can edit questions and add new ones to an application after it launches. You can't delete questions. Build the application out in a document first just to lay it all out, then add it to the community manager application builder. Making changes should be a last resort so it's critical to review your application with all stakeholders and make sure everyone is happy with it before it launches.
Activate your community application
Let your Community Strategist at ExpertVoice know you're ready to activate your community and application

Community activation: Activate your community by toggling the status under Community Settings to active. As noted in the tool, this action cannot be undone once activated. (This will add a link to your community on your brand page. Anyone who visits your brand page will be able to review the community guidelines, requirements, and benefits, but your community will only be promoted to the select audience you determine within ExpertVoice.)
Discoverability:

We recommend that you make your community discoverable on your brand page for anyone that visits your brand page; this is the default setting

Application activation: Once you have activated your community, you can start your application under Applications so that you can recruit candidates externally through your community page link, or it can be targeted to the select audiences that you identify on ExpertVoice. When your community is active, you can turn your application on or off as needed. Overwhelmed by applications? Take a break and turn it off for a bit. Need to add a few more experts? Turn it back on and continue your search. It's all up to you.
Note: If you turn your application off, you MUST tell your ExpertVoice Community Strategist or your Customer Success partner so that your application is no longer promoted on ExpertVoice.
Note: Ensure your community is active first before you activate the application.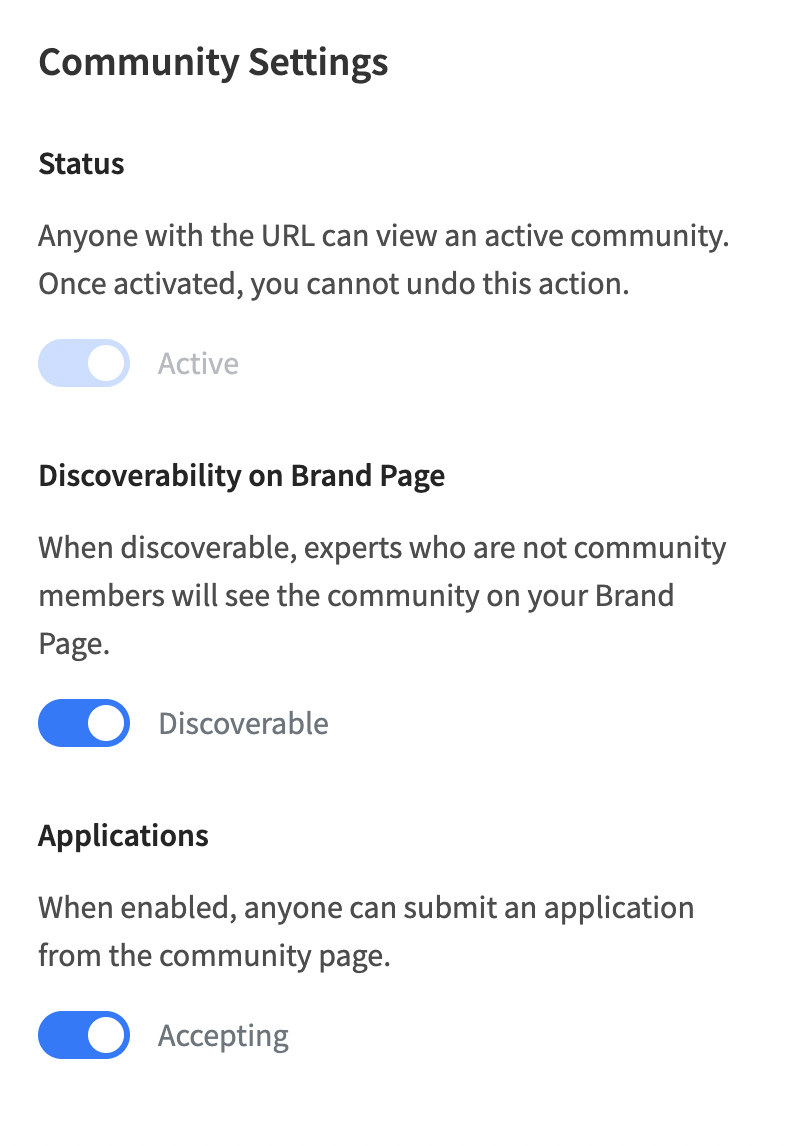 Next, learn about processing applications for your community.
Questions? Find answers to FAQs.