Overview
An Edu-Game is a fun, short quiz at the end of a lesson to assess an expert's overall retention of the content and reinforce what they have learned. An Edu-Game is not required to be added at the end of a lesson, but if one is added, the expert must successfully pass it to "complete" the lesson.
An Edu-Game has a configurable passing threshold. For example, four out of six questions must be correctly answered in a single round to pass the Edu-Game.
Each Edu-Game question supports up to four possible answer choices.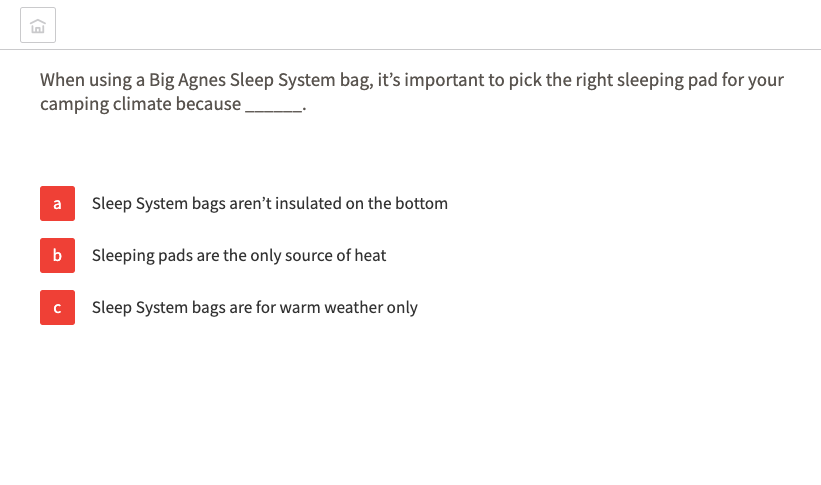 If the expert gets the answer correct, they will see a "Job well done!" notification with a short summary about what the right answer was.

If an expert gets the answer wrong, they will see an Incorrect notification with a short summary about what the correct answer was.

Note: The answer summary and reinforcement text, as well as deeper control over the available question pool and pass/fail rate, are features of lessons created by ExpertVoice Studios.
How do Edu-Games work
Experts must pass available Edu-Games in order to complete the individual lesson and ultimately the campaigns they are included in
If a campaign has an incentive required with it, experts must pass all or certain specified Edu-Games in it to earn the incentive
There is no limit to the number of times an expert may take an Edu-Game, but they must restart the lesson before each attempt
To encourage repeat test-takers to pay closer attention to a lesson's content, the order of the questions and answers is randomized each time an Edu-Game is started
Though adding an Edu-Game to a lesson is optional, we recommend doing so in most cases.
Taking an Edu-Game helps reinforce what an expert has learned from your lesson.