Overview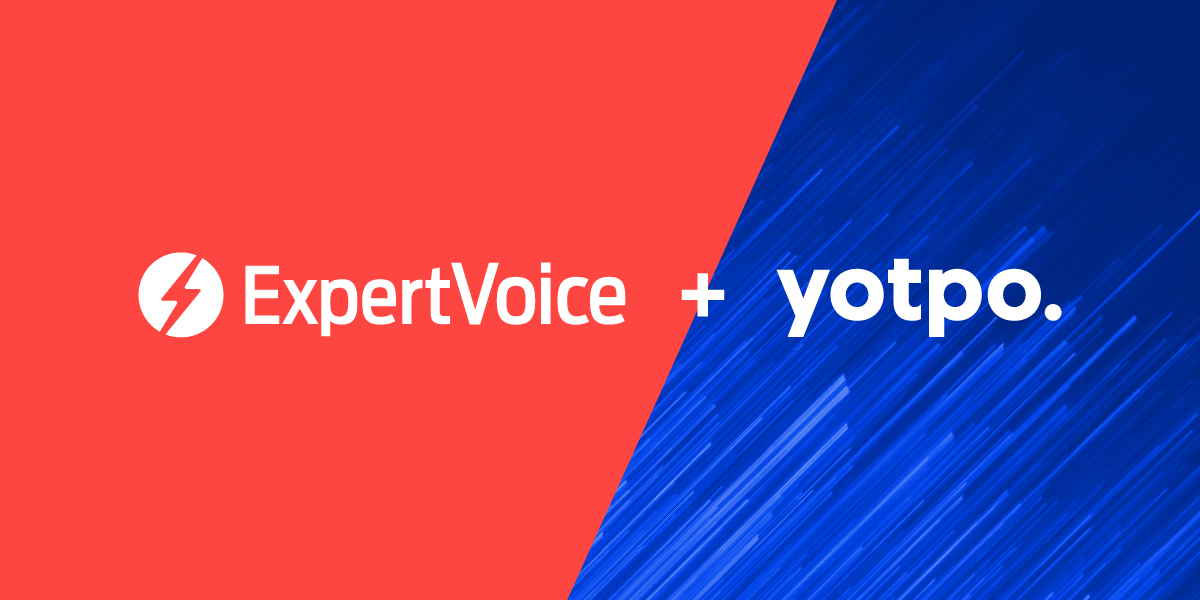 ExpertVoice's integration with Yotpo enables brands to syndicate Expert Reviews to Yotpo's Reviews & Ratings display on brands' e-commerce websites. This integration unleashes the power of expert reviews on your website by building online purchase confidence, accelerating sales, and reducing returns at a massive scale.
E-commerce Advocacy already enables brands to collect and syndicate authentic expert reviews published on ExpertVoice to your website via the Expert Recommendation Display. For brands with Yotpo, this partnership makes it possible to vastly expand the reach of expert reviews on your website by integrating them with your Yotpo's reviews if desired.
How to implement the Yotpo + ExpertVoice integration
Reach out to your ExpertVoice Account Executive regarding the integration. They will invite you to a kickoff meeting and provide you with a discovery questionnaire to complete in advance of the meeting. Attend the kickoff meeting hosted by your ExpertVoice team to talk through your completed discovery questionnaire and answer any questions you may have.
Provide your Yotpo API Key and Secret Key

with your ExpertVoice Project Manager who will oversee the integration implementation.

Once your Project Manager has implemented the integration, c

onfirm that your expert reviews are being syndicated to your Yotpo Ratings & Reviews display on at least one product.

Monitor new reviews via your Yotpo Analytics

and share results with ExpertVoice. ExpertVoice will be listed as a vendor in your Yotpo Analytics dashboard.

Notify your ExpertVoice Customer Success partner if your product IDs

change so that the mapping continues to work correctly.
Note: The following information in the expert review(s) will update in real-time according to your review activity on ExpertVoice.
Name of the reviewer (First Name and First Initial of the Last Name)

Review title

Review body description

Photo (if available)

Star rating (1 to 5)

A "Verified Buyer" badge if the product was purchased on ExpertVoice
A "Verified Reviewer" badge is a reviewer who has confirmed their email address or connected a social network to Yotpo. As the Verified Reviewer badge involves a layer of social or email verification, it proves to shoppers that the review was written by an actual person and was not generated by a bot.
5. After the first 90-days of the integration going live, share an update with your ExpertVoice Account Executive about how your expert reviews are impacting the conversion rate on your product detail pages. You can find performance results in your Yotpo reporting dashboards where ExpertVoice will appear as a vendor:
Helpful tips
Implementing the Yoto integration will send reviews as ExpertVoice receives them into the Yotpo syndication API. The expert reviews from ExpertVoice will immediately appear in your Yotpo feed and in your Yotpo Reviews & Ratings widget.

Yotpo allows brands to moderate expert reviews as you with other Yotpo-collected reviews.
If you have auto-publishing enabled in your Yotpo Ratings to & Reviews settings, reviews from ExpertVoice that meet your auto-publishing criteria will be published to your Yotpo display.

Your backlog of existing reviews previously published by experts on ExpertVoice can also be submitted through the Yotpo API.

Only reviews with a star rating can be syndicated (this feature was available as of January 2020 on ExpertVoice)
How to uninstall or stop the Yotpo integration
Please get in touch with your ExpertVoice Customer Success partner if you'd like to uninstall or end the integration. Your ExpertVoice Project Manager will turn off the syndication to the Yotpo feature, and no further reviews will be syndicated.
How to monitor the impact of syndicated expert reviews
Log in to your Yotpo Portal.
Click Analytics.
Click Conversions to view the Conversion Dashboard or click Reviews to view the Reviews Dashboard. ExpertVoice will be listed as a vendor.

Reach out to your Account Executive and Customer Success partner and provide an overview of how expert reviews are impacting your overall Yotpo Ratings and Reviews. Here is example information you can provide:

Since implementing the integration, what products have seen the most significant increase in reviews?

What products could benefit from more reviews? (Note: Here are ways you can collect more expert recommendations on ExpertVoice.)

Have you seen an increase in order conversion on your e-commerce site?

Are general consumers interacting with the expert reviews? (e.g., commenting on the product review, liking the review, etc.)
Additional support
Please contact your ExpertVoice Customer Success partner if you have any questions or feedback.